Industrial interiors are usually compiled of various natural materials that keep the room looking fresh and modern. Dome pendants have supported this timeless trend for years and continue to provide exceptional lighting. But as time moves on and trends shift and change, dome pendants have attracted a varied crowd of enthusiastic designers.
Here at Industville, we provide industrial style lighting that looks stunning in a variety of interior designs. Our dome pendants are designed with versatility in mind and can confidently reside in any room. Let's take a look at how this timeless design has inspired some beautiful interiors.
Dome Pendant Lighting for Kitchens
Kitchens are spaces of joy and life, so you'll need your lighting to provide the same qualities. By distributing various dome pendants around your kitchen, you can illuminate specific sections to provide task lighting support to your sink and kitchen counters.
This design can be accomplished in multiple ways, the first being with a Brooklyn Dome Pendant made of Brass. This popular choice is a great way to create spotlights that ensure that every task is illuminated by the right lighting level.
The size of your kitchen will also play a factor in your lighting designs. You will need to consider if your lighting of choice will work best with your kitchen and ensure that your space is filled with enough light. Fortunately, dome pendants can be crafted in several sizes to fit the smallest or largest of kitchens.
Dome Pendant Lighting for Dining Rooms
Dining rooms hold various vital events, including dinner with friends, family gatherings and even game nights! Here at Industville, we believe that your dining room lighting is critical to evoking a functional modern interior. With the introduction of our new black range, our dome pendants are perfect for ensuring a sleek modern dining room.
Dining room lighting can be hard to perfect. With lighting, you must consider your dining room's size, height, and general style to pick an appropriate lighting fixture. Thankfully, our dome pendant is easily adjustable and can adapt to any room, no matter the height or size.
Another critical consideration to account for is the size of the dining room table. If the table is smaller than average, how about picking an 8-inch Brooklyn Dome Pendant for a great fit?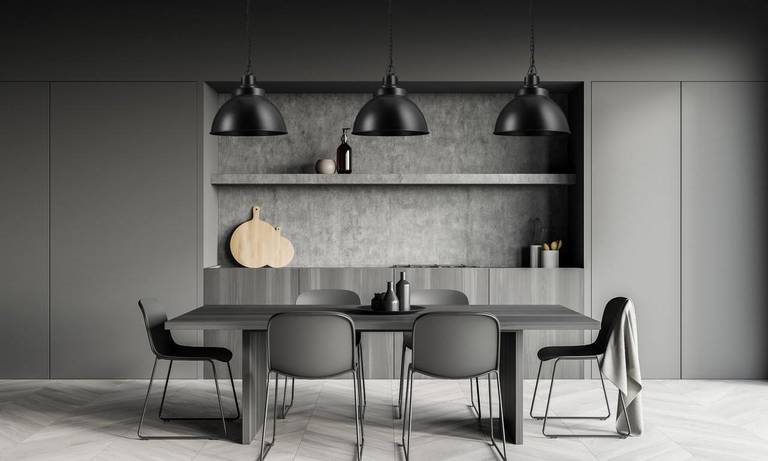 Brooklyn Dome Pendant - 13 Inch - Black, by Industville (Image supplied by ©denisismagilov - stock.adobe.com)
Dome Pendant Lighting for Bedrooms
The beauty of dome pendants is particularly evident in their elegant curved shape and linear wires. Modern interiors specialise in utilising these shapes to blend and connect to create movement in minimalist spaces.
Bedroom lighting requires a multifunctional lighting system that can operate throughout the day and night, providing the right ambience. A bedside table light is an integral part of bedroom design; our Swan Neck Dome Wall light could make the perfect companion to ensure that your bedside table is illuminated.
Bedrooms are incredibly versatile, with most of us using this space to watch TV, chill out, study and unwind. However, you must monitor this delicate system. A mixture of lighting is required to ensure that every need is met. We suggest installing a range of lighting that can increase interior synergy. Check out our mix and match guide.
Add Glass Dome Pendants
Our Brooklyn Glass Dome Pendants are designed to refract and illuminate light around the room. When introduced to natural lighting, they can continue to create a shower of ambience and cast detailed shadows around the room.
These dome pendants are both elegant and practical as they blend elements of industrial excellence with classical components.
The delicacy of glass will invite guests in and keep them charmed with their atmospheric attributes. You could install these glass dome pendants with any room, but they're especially remarkable within kitchens to create great lighting and sense of openness.
The Versatility of Dome Pendants
Here at Industville, we believe that lighting can be memorable and exciting, and our dome pendants are no exception. Our extensive range offers countless versatile choices to ensure that every room can be decorated and brightened to the best possible standard!
If you have enjoyed our focus on dome pendants and would like to see more, check out our extensive range of dome pendants to figure the right fit for you!
Alternatively, take a look at our various industrial-style lights, including exposed bulbs, cone wall lights and much more.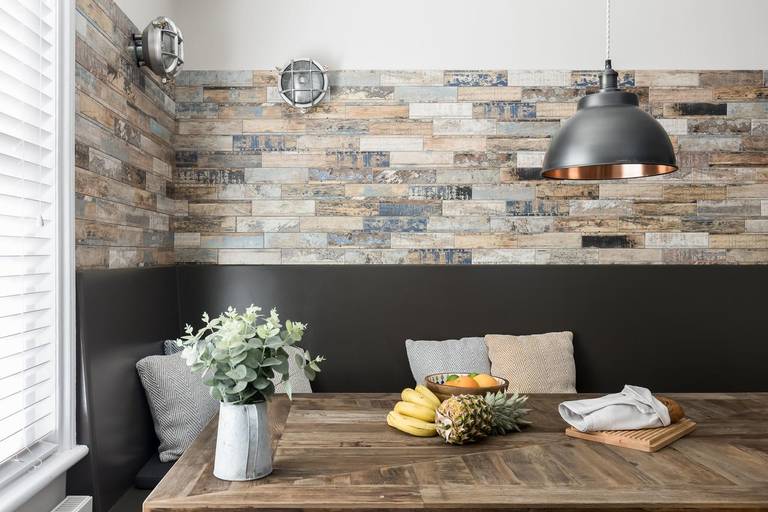 Brooklyn Dome Pendant - 13 Inch - Pewter & Copper, by Industville (Image supplied by @coralinteriors @harbourviewphotography)