Our mission has always come down to creating stunning yet versatile lights that suit a wide range of interior styles, allowing you to get the best of both style and function.
We stock a whole host of handcrafted industrial style lights in countless eye-catching styles and finishes. From our classic Brooklyn Dome Pendant finished in Pewter to a Sleek Tinted Glass Flask Wall Light, and everything in between and either side, there are countless options to choose from - and with our new matt black range, you're now more spoilt for choice!
If you're looking to update or refresh any of your interiors, the exciting new black collection could be the ideal solution.
Achieving a Dark Industrial Look
There's no doubt that the industrial trend is here to stay. It's a look that is constantly evolving, with different designers using classic industrial interior design concepts and adapting the look to suit their space and vision.
One emerging interior trend that we're loving at the moment is all about embracing a dark, luxurious feel.
Dark, rich interiors that are full of depth are simple enough to create at home, whether you're ready for a complete renovation project or just want to update a few pieces into your current design scheme.
Ultimately, paying careful attention to lighting is key if you want to pull off a successful dark industrial look.
The Versatility of Black Industrial Lights
Matt black lights are ultra-versatile and can complement any interior style, including classic, contemporary, Scandi, mid-century, industrial - and everything in between!
Meticulously designed and perfectly styled black lights are like staple jewellery pieces; they act as a vital accessory and blend seamlessly with any decor, much like a favourite necklace can be paired with any outfit.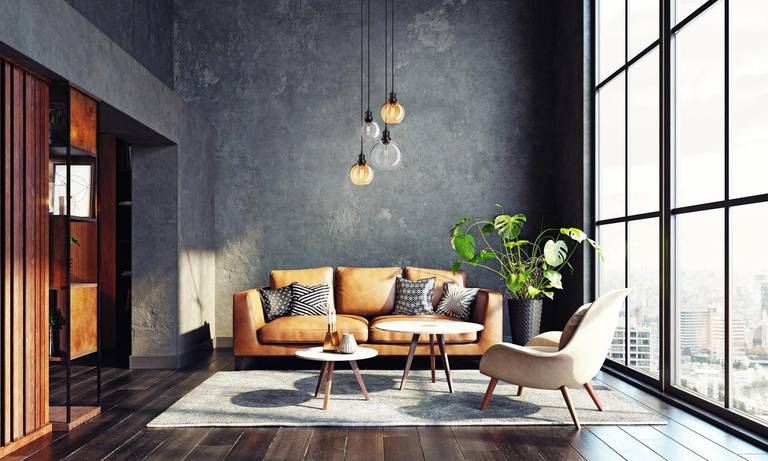 Brooklyn Tinted Glass Globe Pendant - 7 Inch - Smoke Grey & Brooklyn Tinted Glass Globe Pendant - 7 Inch - Amber, by Industville (Image supplied by ©Victor zastol'skiy - stock.adobe.com)
Introducing Industville's Matt Black Collection
Our new collection includes pendants and wall lights in a range of stunning styles with a brand new black finish. You can choose from designs in all-black or opt for black with a copper or brass combination for an additional hint of metallic luxury.
Part of the beauty of the new collection is that you can mix and match these lights with existing Industville fittings or purchase complete fitting if you're planning a whole new lighting scheme.
Marketa Rypacek, our Managing Director here at Industville, explains the inspiration behind the new range:
"Introducing our on-trend black lighting collection was actually inspired by our customers who would frequently request bespoke black lighting to be produced for them. Working on these projects and bringing them to our production team further developed the idea to make this available for all our customers, new and existing.
We have always designed and produced our own lighting. Our designs are versatile, handcrafted, high-quality and created to coordinate beautifully with any of our other styles.
For our customers, this means that if they want to purchase a new lighting product in a few months or even years' time, they won't need an entirely new light or suite of products, as any new Industville product will fit right in.
Industrial interiors have been popular for decades and are always evolving to accommodate our growing needs and lifestyle changes. Here at Industville, we embrace this by incorporating and adopting the latest trends."
How to Incorporate the Dark Industrial Trend into Your Interiors
There are many ways to incorporate a dark industrial look into your home without fearing that your interiors will seem outdated by the next season.
Although elements of the trend change over time, at its core, the industrial look lends itself well to a sense of timelessness. It includes classic features that never go out of style, focusing on things like lights to bring a stylish edge to your interiors.
Marketa further explains the appeal of raw materials and dark interiors:
"Raw materials, especially high-quality metals, is one of the main features of industrial design that is here to stay. The latest trend combines the raw and rusty with the sleek and modern.
This transition freshens up the signature industrial aesthetic, providing an excellent opportunity for creative expression. When it comes to creating a feeling of luxury, dark tones are where it's at.
We see dark kitchens being on the hot list, as well as dark-toned living areas and bathrooms too. The light that emanates from dark fittings creates an impressive and dramatic impact in any interior, and this is why we are so proud to introduce our new matt black collection."
When striving to achieve the ultimate dark, luxurious interior in your own home, Marketa advises:
"Making a dark interior work successfully requires careful attention to lighting, and our new black lighting brings a really effective ambience to any room. Each piece illuminates only its specifically designated area, letting shadows fall in the space between to create a beautiful soft light with pockets of illumination to achieve a layered look.
Customers can also mix things up by combining black with brass or copper to produce a bold, decadent feel that will add a sophisticated finish to any room."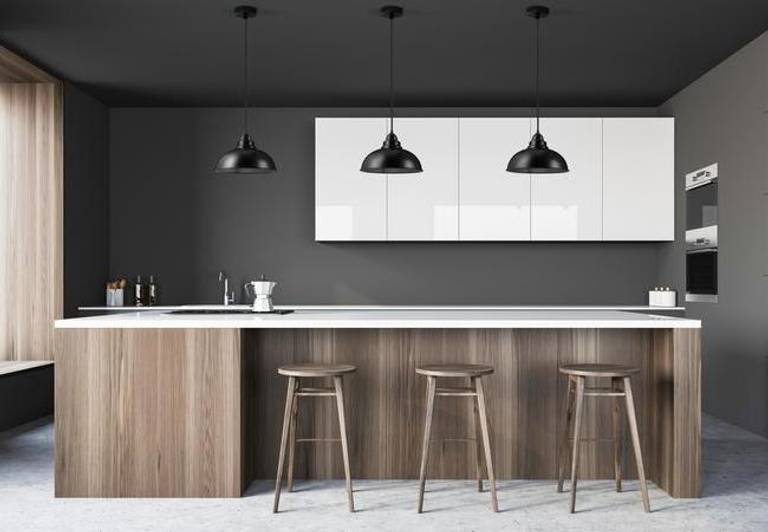 Old Factory Pendant - 12 Inch - Black, by Indudstville (Image supplied by ©denisismagilov - stock.adobe.com)
A Sustainable Light Range
While style and function are among our primary concerns when we create our lights, so too is sustainability and the responsibility that we have to the planet.
On this subject, Marketa explains:
"We are always striving to make our products as sustainable as possible. We use natural, raw metals, reducing the reliance on plastic and other chemicals.
When it comes to packaging, we always use biodegradable bubble wrap as well as paper tape so that our packaging can be easily recycled. All of the products are handcrafted and made from natural and recycled materials such as pure brass and copper, something the company has always been proud of.
Sustainable production methods are also employed in our factory, where processes are regularly evaluated to see if they can be streamlined to become even more efficient.
We manage the whole manufacturing process ourselves to ensure both the designs and materials are in line with our ethos and values regarding sustainability and quality.
We are very proud to have gained the ISO 9001:2015 certification, which further demonstrates our ability to consistently provide products and a service that meets customer as well as regulatory requirements."
If you would like to embrace this on-trend dark, luxe look in your interiors, now is the perfect time! Browse our matt black light range to find a new favourite design that'll look at home in any of your rooms.
For more updates about our collections and plenty of inspiration to help boost your interiors, check out our Instagram, Pinterest and Facebook pages.