Green, in all its shades, has been a popular design choice for several years now, and the colour trend isn't showing any signs of stopping. In fact, many of us are becoming bolder with our interiors and are finding new exciting ways to incorporate green, whether it's to create a vibrant, eclectic or tranquil living space.
Get inspired by some of the best home interior ideas that embrace glorious green.
How to Use Green in Interior Design
Green is an incredibly versatile colour with an endless array of stunning shades, offering something for everyone.
The first place to start is by establishing which shade of green best reflects your intended tone and style. Green is often used to symbolise prosperity, peace, harmony and nature, but different tones will obviously have varying impacts. A deep emerald green can be used to emphasise luxury and opulence, for example, while sage can act as a more neutral, soothing base.
Other much-loved green shades that can be effortlessly incorporated into the modern home include:
Other much-loved green shades that can be effortlessly incorporated into the modern home include:
What Colours Go With Green in Interior Design?
One of the many beauties of green is that you can pair it with various other colours, using paler shades as neutrals and deeper shades as impactful highlights.
Especially attractive combinations include:
green and pink interior designs
green and gold interior designs
green and white interior designs
green and brown interior designs
green and yellow interior designs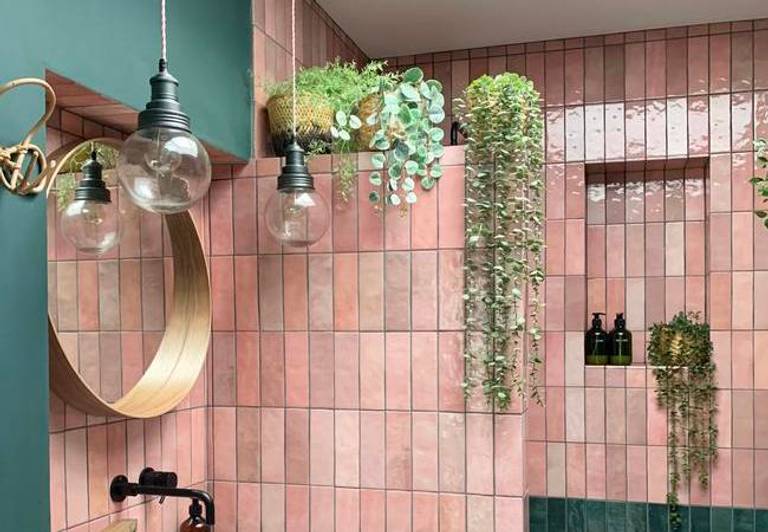 Brooklyn Outdoor & Bathroom Globe Pendant Light - Pewter by Industville (Image supplied by @upstyleyourhome)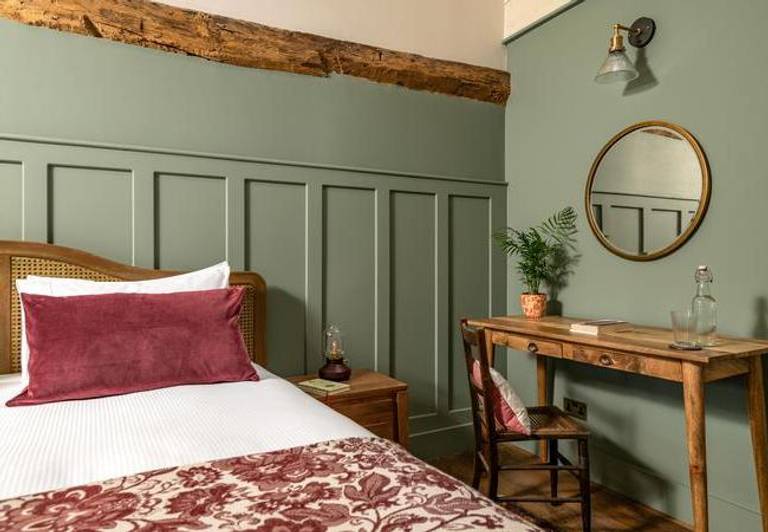 Pair Green Designs with Metal Highlights
Metallic features, like bright statement lights, mirror frames and decorative ornaments, shine on their own and are only highlighted further when paired with rich green designs.
Brass or copper details work particularly well against shades like forest, olive or sage green, creating effortless elegance. Largely monochrome interiors can be elevated spectacularly with gleaming hints.
You can see this illustrated beautifully in the bathroom below with its pear green walls and luxurious brass wall lights – the yellow undertones present in each colour makes them the perfect match.
Decorate With Houseplants
One of the most obvious places to start when introducing green into your home is with an array of lush houseplants.
Verdant plants add life, a sense of calm and a pop of colour to any room. With a wide variety of plants readily available, you can match their colours to your existing green details or, if they're your first foray into green, mix and match different green tones and plants for a lively, dynamic feel.
Green Living Room Ideas
When it comes to particular rooms, one of the places that thrives best on a green colour palette is the living room. You come here to relax, get cosy and spend time with loved ones, so it makes sense to imbue it with soothing, natural qualities.
Green office design ideas also draw from these notions of creating spaces of serenity and reflection.
Green Walls & Wallpaper
If you're all in on the green trend, going for an all-encompassing look with patterned green wallpaper, single-colour painted walls, or even ceiling can help you make an unforgettable impact.
Botanical patterned wallpapers with jungle or forest influences are especially popular as they bring an additional element of intricacy and connection to the natural world.
Retro and vintage wall lights are the perfect accompaniment to bold wallpaper designs as they help further shine a light on eye-catching features.
Statement Green Sofa or Chairs
Another good way to bring gorgeous green shades into your living room is with a statement sofa. Opt for rich dark greens in luscious, velvety materials to add depth while also boosting the comfort and cosiness of your space.
Colour Block with Green
Again, if you're not ready to invest in a full green colour scheme, colour blocking might be the solution for you. This method swathes one section or element in a block colour – in this instance, green – to provide a vivid highlight or point of interest.
If you use a pale green colour block against a bright background, it can also help balance your space and infuse it with a bit of tranquillity.
This look can be achieved by painting or panelling just half of your wall with green hues or painting just your cabinets green in your kitchen for a burst of colour without worrying about creating an overwhelming look.
Green Soft Furnishings
Because of its association with nature, green can be an incredibly comforting colour. So, combine this unconscious connection with comfort with the same physical sensation by bringing more green soft furnishings into your space.
This also provides a good opportunity for you to play with colour combinations as you can easily introduce green cushions, throws, lampshades or even update your bedspread, mixing and matching tones with your existing style.
If you're set on a totally neutral design but are still itching for a change, light green details like this can help you incorporate some mellow accents to match changing seasons.
Combine Green with Natural Materials
Embracing more natural materials allows you to engage with trends surrounding sustainability. Green obviously combines beautifully with rich browns, so natural wood elements are ideal.
Wood shelves, coffee tables and cabinets give your space structure, helping to ground more whimsical green designs. Woven rugs also look particularly attractive when combined with bold green walls and chairs.
Take it a step further by embracing second-hand furniture, handcrafted lights or recycled items to help combat throw-away culture and set the intention to make more eco-friendly choices.
Green can be an incredibly refreshing colour when used in interiors, offering so many possibilities with all the various colour iterations and shades to choose from. You can't really go wrong when incorporating green into your spaces, no matter which room needs a refresh!
Whether you prefer pale greens that'll complement more neutral interiors or want to embrace vibrant jungle greens for a tropical paradise, a statement pendant or vintage wall light might just be the final puzzle piece to make your design pop. Browse our lighting range to find the perfect style for your home.
Header image credit: @wonderful_woodstock_renovation