In the modern world of hospitality, every detail matters. Hotels design sleek reception areas and impressive guest rooms to create memorable experiences for their guests. One underrated element in this experience is lighting. The right lighting can set the mood, enhance the aesthetics, and improve functionality.
Let's delve into the latest hotel lighting trends and what the right lighting can do for your hospitality space.
Sculptural lighting
Sculptural lighting fixtures are becoming popular ways to create an inviting and eye-catching experience for guests. Large pendant clusters and statement fixtures enhance the interiors of lobbies and restaurants. They are specifically chosen to highlight architectural details.
These fixtures are designed to make a statement and draw attention to the space. They are often used in clusters to create a visually striking effect. Design your hotel with stunning statement pieces like our Beehive lighting, which can be eye-catching focal points in hotel entrances.
Read about how to style oversized lights.
Linear lighting
Install multiple pendants or wall lights in a row to achieve the linear lighting look. This combines aesthetic and technical elements and is becoming popular within the hospitality lighting world. This lighting helps to enhance fine details and highlight interesting areas, like the hotel bar. Wall lights attract attention, emphasize important areas, and create a cosy and inviting atmosphere in your hotel interior.
Use a whole collection of standard pendants to create a cohesive and interesting look. There's no limit to what you can achieve with our range of components, especially with sculptural fixtures like our Beehives.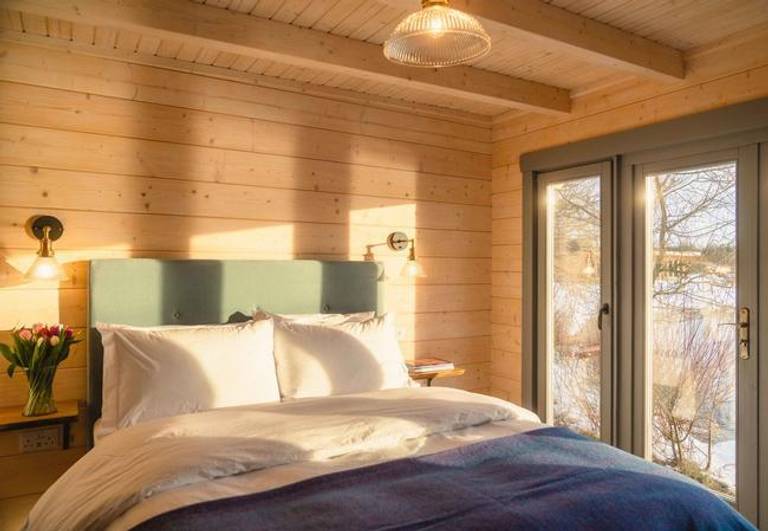 Brooklyn Glass Funnel Wall Light - 7 Inch and Brooklyn Glass Dome Pendant Light - 12 Inch (Image Supplied by Blyth Rise Stays)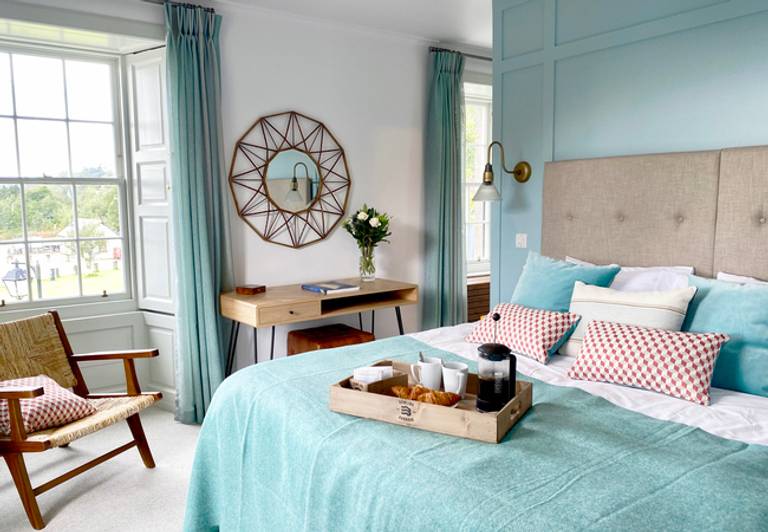 Classic hospitality lighting
The timeless appeal of vintage, rustic and industrial style lighting continues to be on trend for hospitality interiors. Pair Edison bulbs with ceiling pendants, to give your interior an elegant and polished vintage look. Brass and Glass elements with a modern twist, like our popular Brooklyn Glass Dome Pendants, are trendy lighting styles today.
Setting the mood in hospitality
Designers in the hospitality industry understand that lighting isn't just about illuminating a space; it's about creating an ambiance. Lighting is important for creating the right atmosphere in hotels, resorts, and urban retreats.
One trend that's gaining momentum is the use of adjustable lighting systems. These systems allow guests to personalise their room's lighting to suit their mood. From soft, warm lighting for relaxation to bright, invigorating light for work or makeup application, these systems cater to every need. Great lighting is essential for creating amazing experiences, for the look of your space and to make spaces functional.
Not only does this enhance the guest experience, but it also showcases the hotel's commitment to comfort and convenience. All our LED bulbs and fixtures are dimmable to ensure the upmost convenience in your commercial space.
Table lamps are becoming popular additions to hotel interiors. Soft light not only provides elegant task lighting for nighttime reading, but also enhances the mood with a warm glow.
Building hospitality brand image through lighting
Hotels are increasingly using lighting as a tool to convey their brand identity. A luxury hotel might choose unique chandeliers and warm, golden brass fixtures to show sophistication. A modern city hotel may have simple fixtures and neutral colours, like the Sleek Dome pendants, for a trendy feel.
Environmentally conscious travellers are seeking eco-friendly accommodations. Hotels are responding by incorporating sustainable lighting solutions. LED lighting, for instance, not only reduces energy consumption but also lasts longer, minimising maintenance costs. This commitment to sustainability can be a strong selling point and an integral part of a hotel's brand image.
Sustainable materials have taken over almost every industry possible and luxury lighting is no different. Wood and other natural materials give a rustic feel to the home and help the environment. Always handcrafted from recycled materials where possible, we have worked hard to ensure our products are built with sustainability in mind.
If you need durable and stylish lighting fixtures for your hotel, take a look at our extensive collection of lights. We offer a variety of styles that can complement your interior design.
Read about how businesses are making sustainable lighting choices.
In summary, the hospitality industry is always changing, and lighting trends greatly impact the guest experience. Designers are choosing bold and timeless lighting to create the desired atmosphere and establish brand image. As hotels continue to adapt to changing guest preferences and sustainability concerns, our range of lighting fixtures means you can find the perfect solution to your design project.
Explore our lighting range and get in touch with our sales team to find out more about how you can implement lighting in your hotel decor.
Banner image supplied by Owen Associates