With environmental concerns often at the forefront of conversations about modern design, it's no surprise that businesses are looking for ways to make their spaces more sustainable day-to-day. This notion of sustainability has been impacting purchase decisions for companies globally. Businesses are now looking closer to home, upgrading and purchasing indoor lighting that favours sustainability in their interiors.
Benefits of Sustainable Office Lighting
Sustainable choices aren't just beneficial for the planet, they can help boost businesses in several ways.
Reduce Electric Costs
Choosing sustainable lighting options for your business significantly reduces the monthly electricity cost for your business.
Elevate the Interior Style of Your Business
With the proper sustainable lighting, you can elevate your business interiors with fixtures that provide a sleek, modernised elegance combined with materials made to last.
Increase Productivity
Embracing sustainable lighting choices within your business can boost productivity and help improve the overall well-being of your employees.
Become inspired to make your business sustainable with our top lighting choices for eco-friendly lighting below.
1. Use Eco-Friendly Edison LED Light Bulbs
LED bulbs are an essential choice for businesses that want to become more sustainable when it comes to their lighting. Edison LED bulbs use 75% less energy and last up to five times longer than traditional incandescent lighting.
Our vintage Edison bulbs make excellent sustainable lighting options as they provide a significant amount of light to illuminate your chosen space while saving energy. Our vintage style embraces a golden or orange-tinted light, perfect for interiors that need a warm yet striking ambience.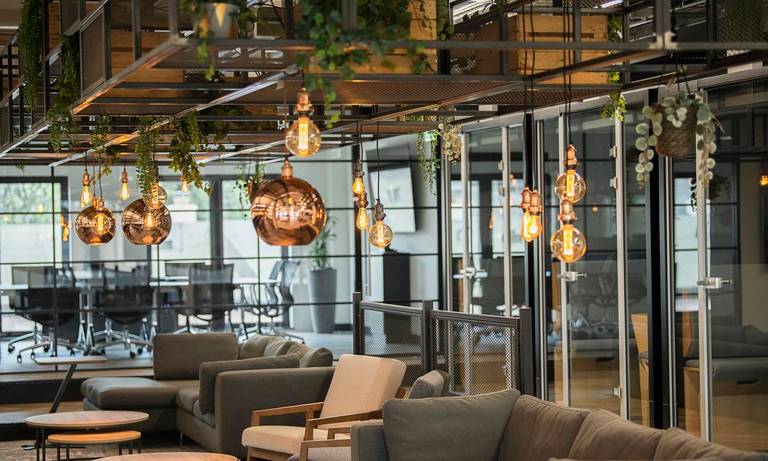 Vintage LED Spiral Edison Bulb - 5W E27 Globe G125 by Industville (Image Supplied by Kinetic Workplace Limited) Edison light bulbs hanging over an office space
2. Clean Your Lighting Fixtures Regularly
Cleaning your light fixtures can increase efficiency, successfully prolong the overall lifespan of your light and maintain the aesthetic of your interior style. Dirty light fixtures emit 30% less light than clean fixtures and lessen the quality of the light the space receives. It is important to embrace regular cleaning to achieve sustainable lighting in your interiors.
Regular dusting and wiping down of your light fixtures ensures cleanliness and maximum illumination. It is also recommended to carefully wash your light fixtures twice a year with warm water.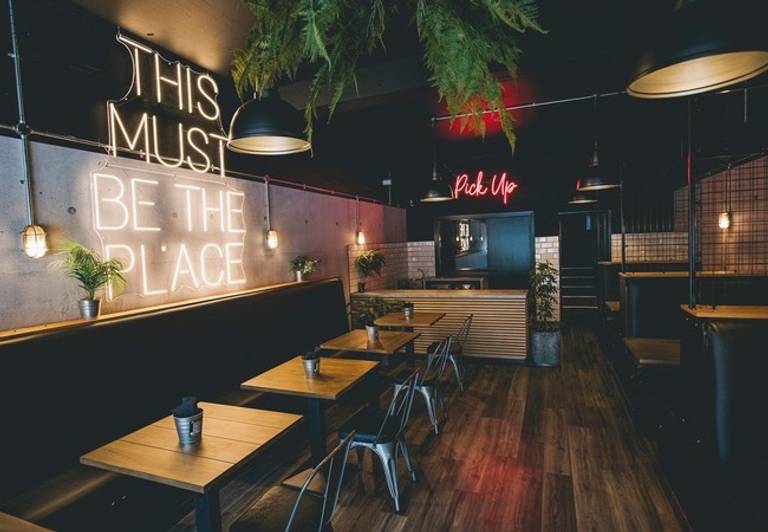 Retro Large Pendant - 13 Inch - Pewter + Bulkhead Outdoor & Bathroom Oval Light - 6 Inch - Gunmetal by Industville (Image Supplied by: @annastrawinteriordesign, @cmstudios_photography)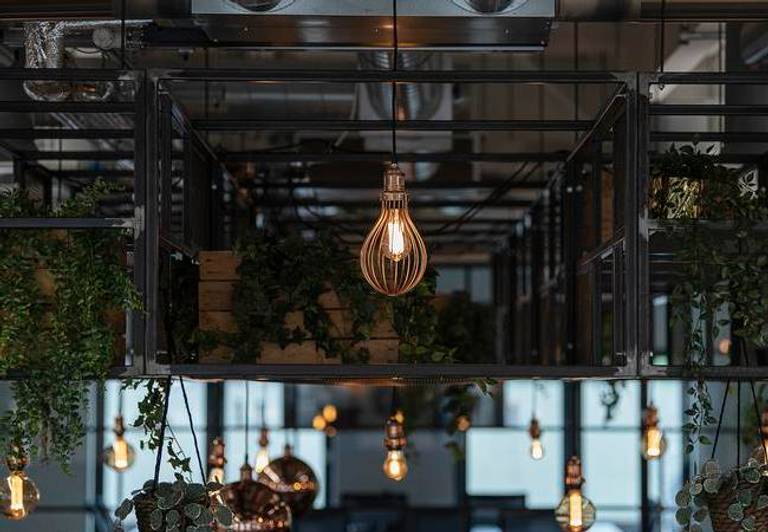 3. Embrace an Open Floor Plan
Open plan spaces are often referred to as 'green plans'; they are a sustainable option as they can help improve air circulation, reduce energy and allow natural light to seep into the space. If your business utilises open spaces, consider adapting the rooms to balance well-being, function, and style.
Our modern indoor lights are perfect for open plan business spaces as each light casts a warm striking glow through the room and can be customised to meet your style needs.
Utilise Natural Lighting
Maximising natural light is one of the key choices to achieve sustainable lighting in your interiors. Embracing natural light throughout the day minimises the need for artificial light and dramatically reduces your energy bill.
Moreover, when the days get shorter and darker, it is essential to consider the role of ambient lighting, which can help illuminate your business and continue to showcase a welcoming atmosphere.
4. Put Lights on Timers
Light timers are amazing devices your business can use to save money and conserve energy. The devices are connected to single or multiple lights that turn off after a significant amount of time has passed or at a particular time in the day/night.
Placing your light fixtures on digital timers is perfect for situations where your employees accidentally leave the lights on or you want the lights to be switched off.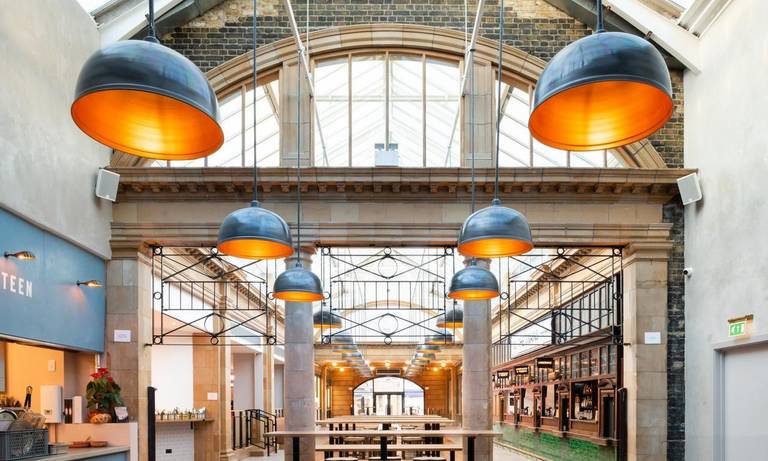 Brooklyn Giant Dome Pendant - 24 Inch - Pewter & Copper by Industville (Image Supplied by: Jim Stephenson)
5. Embrace Dimmer Switches
Dimmer switches can be a simple and effective way of controlling the amount of light in a room. Compatible lighting can be fitted with dimmers that help reduce the energy emitted by the light level within a space.
For commercial use, placing dimmer switches on pendant ceiling lights in spaces such as hospitality spaces, hotels, meeting rooms and small offices can be ideal. Not only do dimmer switches save energy, but they also encourage you to create the perfect ambience suited to the space.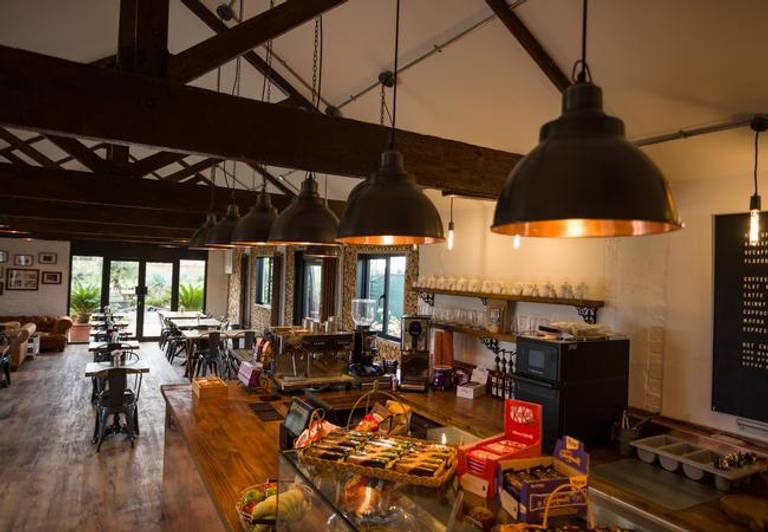 Brooklyn Dome Pendant - 13 Inch - Pewter & Brass by Industville (Image Supplied by: Stones coffee shop)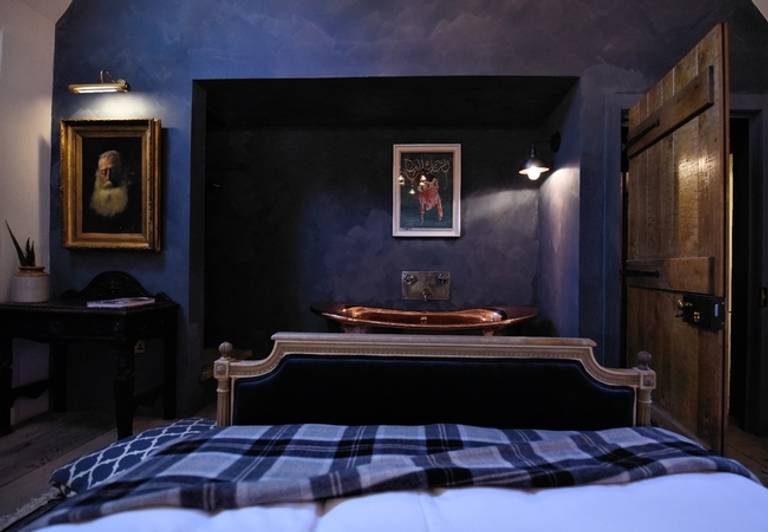 6. Purchase Long-Lasting Handcrafted Lights
Businesses are now keen to use sustainable materials throughout their design. We are now seeing more and more customers opting for custom-made lighting pieces made from sustainable materials that stand the test of time.
All our lighting fixtures are handcrafted and made from natural and 100% recycled materials such as pure brass and copper. By purchasing lights created from solid materials that are made to last, you can improve the lifespan of products and further reduce your carbon impact on the planet.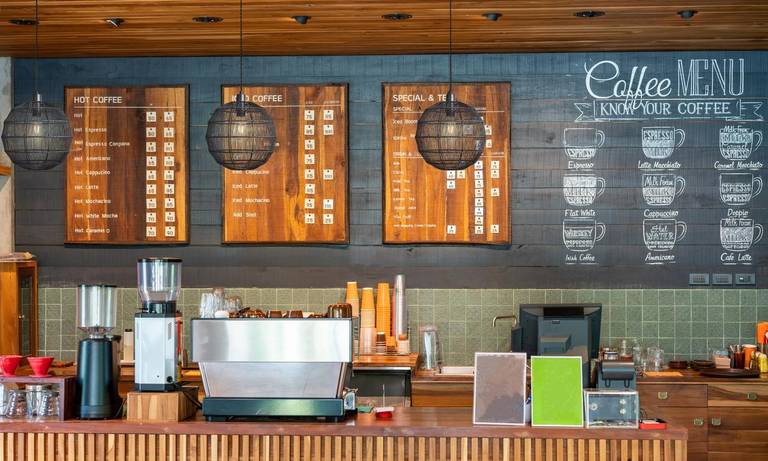 Handcrafted Wire Cage Pendant Light - 12 Inch - Globe - Pewter by Industville (Image Supplied by: Industville)
Is your business looking to become more sustainable? If you need sustainable lighting fixtures that are future-proof and stylish then look at our extensive commercial lighting range that offers various design styles tailored to suit your business interiors.
Header Image Supplied by: Andy Haslam Photography