The past few years have transformed our relationship with interior design, especially when it comes to offices and other commercial spaces. Now more than ever, designers are considering how they can prioritise sustainability and comfort, ensuring offices and businesses use their spaces efficiently while also reflecting their values and catering to their employees.
Many of the popular commercial interior trends we're seeing this year are born out of a reaction to COVID-19, with companies thinking about how they can create stylish spaces while still paying attention to the changing nature of the workplace.
Which 2022 commerical interior trends will you be embracing?
1. How to Incorporate Sustainability in Commercial Interior Design
Trends towards sustainability certainly don't come as a surprise, but that doesn't mean you shouldn't be paying attention.
The focus here is on using natural materials or things that have less impact on the environment – like opting for handcrafted items or reclaimed furniture and decor. Sustainable design can be embraced by all industries, whether you're looking to give a corporate office a new look with stylish office lighting](https://www.industville.co.uk/collections/office-lighting), wow your hotel guests or create a relaxing atmosphere for restaurant diners.
Here at Industville, sustainability is central to our ethos. All of our products are handcrafted and made from natural and recycled materials, along with being created with sustainable production methods.
Our lights are also made to last, offering a timeless design that will keep your business's interiors looking outstanding for years to come – this makes them a great investment! Pair this with our energy-saving bulbs and you've got a winning combination.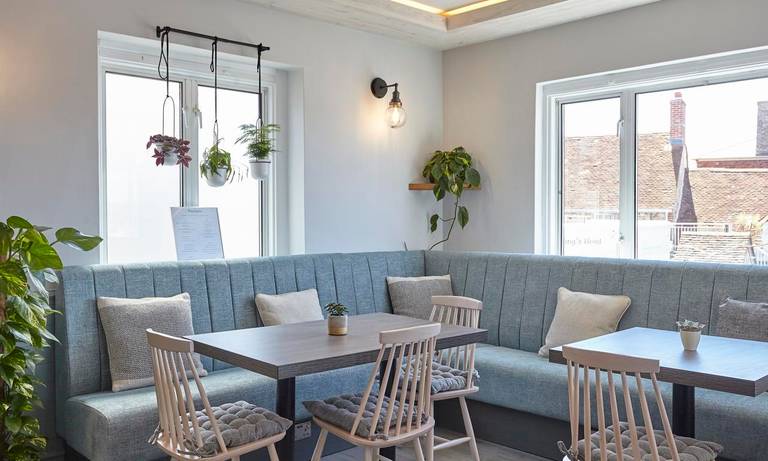 Brooklyn Outdoor & Bathroom Globe Wall Light - Pewter by Industville (Image supplied by @tmlcreative)
2. The Rise of Resimercial Design In The Workplace
There's been a lot of buzz around 'resimercial' design for office interiors since more people have been forced to work from home. This trend combines commercial spaces with the home comforts of residential interiors to create a productive yet comfortable environment.
This trend aims to replicate the atmosphere that many enjoyed while working from home by incorporating decor and design elements that prioritise employee wellbeing by creating comforting, relaxing spaces. This means bringing more personality into corporate office designs – however, this doesn't have to come at a cost to professionalism.
Simple ways businesses are embracing this trend include opting for:
Softer, curvy shapes when it comes to furniture
Lighter colour palettes
Statement lights that provide a warm glow while also remaining highly functional
Houseplants
3. What are the Advantages of Minimalist Design?
As everyday life becomes more hectic, a sense of simplicity in interior design is becoming increasingly appreciated. In interiors, this can be achieved through minimalism and a carefully considered design.
Minimalism is all about focusing on a few select design features and making a statement with the most important elements that reflect your establishment's style rather than creating an over-cluttered look that tries to emulate every latest trend.
Minimalist aesthetics have a timeless quality, providing a sense of characterful luxury – something that patrons are seeking from many retail and hospitality businesses.
4. Curved Shapes in Interior Design
Feeding into these ideas of carefully curated minimalism and comfortable commercial spaces, we're seeing a renewed interest in rounded shapes.
Furniture or lights with curved edges and softer profiles temper some of the perceived harshness of corporate design, making offices and meeting rooms more pleasant spaces to spend time in.
Rounded design can also be used to emulate shapes from nature, adding to the feel of a timeless, sustainable look that helps people get the sense they are reconnecting with nature.
Many of our industrial lights are available with curved dome shades or with other rounded silhouettes, offering a simple way for businesses to bring this versatile trend into their interiors.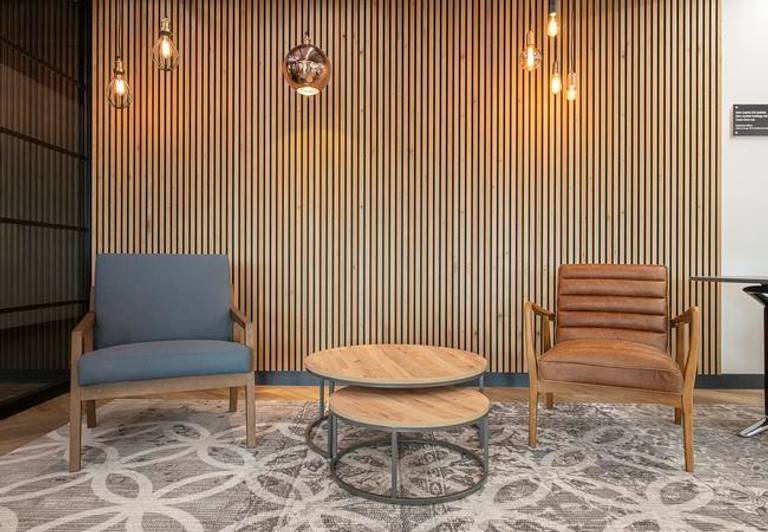 Brooklyn Balloon Cage Pendant - 6 Inch - Pewter by Industville (Image supplied by Kinetic Workplace Limited)
5. Colour Blocking
Colour blocking is a great way to introduce colour into a space while retaining a sophisticated and professionally styled look.
Blocks of colours or a swathe of one particular tone can be incorporated into offices, restaurants, cafes, hotels and anywhere else that needs a touch of new life. For an office, natural or subdued tones can work well to create a calming yet charming space, while a cafe or coffee shop might benefit from pops of vibrancy to catch customers' eyes and draw them in.
When done right, colour blocking makes a statement and provides a great way to solidify a shop or retail outlet's interior theme.
This is a diverse trend that can be used in numerous ways, depending on the kind of impact that is desired.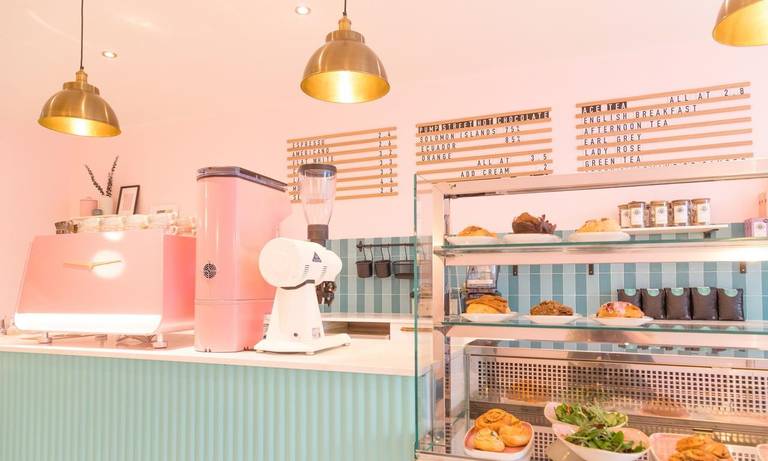 Brooklyn Dome Pendant - 13 Inch - Brass by Industville (Image supplied by @romeoandjulietscafe & @brookeharmony_design)
Our lights are incredibly versatile, pairing beautifully with many up and coming interior design trends for commercial spaces. The perfect blend of function and style, our products are sure to elevate your space in a way that reflects the values and personality of your organisation.
To find the ideal lighting solution for your business, get in touch with our sales team via sales@industville.co.uk, and they will be able to provide some additional guidance.
Header image credit: Kinetic Workplace Limited