The past few years have truly transformed what we've come to expect from office spaces and their design.
As the needs of office workers change, so too must the approach to workplace design. Office interiors still call for functionality at their core, but increasingly, designers are now incorporating more elements of comfort and features that facilitate improved employee wellbeing.
Here at Industville, we've been lucky enough to collaborate with numerous talented designers that work on both residential and commercial projects. We recently spoke to Kinetic Workplace, who are experts in the realm of office interior creation and design.
Below you can read about their thoughts and processes when tackling a new office space project.
Tell us a little about the latest projects you have used our lights in and why the specific ones were chosen?
Office design, for the most part, follows general trends. Twenty years ago, office design was purely functional with cubicle offices, drab interiors and corporate furniture. Today we know that warm, welcoming, comforting offices increase productivity and the welfare of employees.
That's why, for our St Katherine's Dock project, we chose industrial lighting that not only provided an air of professionalism but also introduced warm colours into the space.
We chose Industville because we thought that they were best suited to provide lighting that suited the look and feel we were going for, accenting the design in such a way as to elevate the overall strength of the project.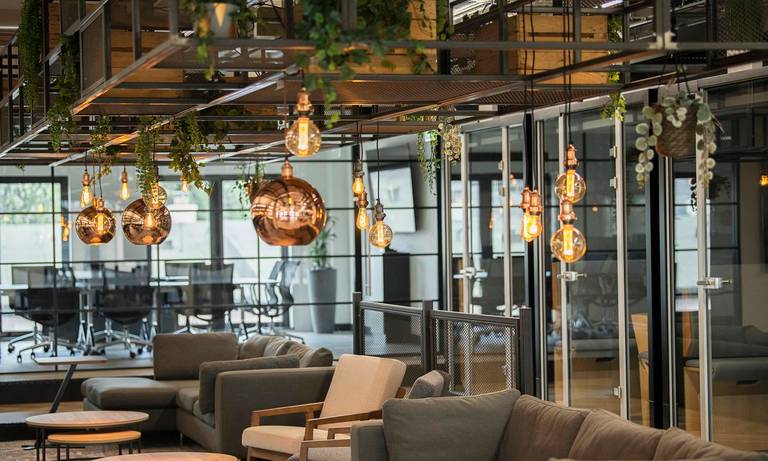 Brooklyn ES E27 Bulb Holder - Copper, by Indstuville (Image supplied by Kinetic Workplace Limited, www.kinetic-design.co.uk)
Which is your favourite office design you have worked on and why?
We have a few. Most notably is our fit-out and design of the Gain Capital (Now Stone X) office in St Katherine's Dock. This project called on every aspect of our expertise in order to pull off, mainly because Covid-19 started during the middle of it.
This presented logistical challenges that we had never come across before, but ultimately, we were able to overcome this obstacle and deliver a project that was on time, within budget and spectacular looking.
It's rare that we come across a project that allows us to fully stretch our creative wings, so from start to finish, we were able to play with ideas and design an office that we were truly proud of.
We were also lucky to be working for a client that was open and receptive to new design concepts and gave us a tremendous amount of free range with our design.
Other examples include our work with the Qantas training facility in west London, in which we designed and built a fully functional aircraft interior for them to train their staff, complete with real airline seats, microwaves, overhead lockers and trolleys – this definitely goes down as one of the more unusual projects we have done.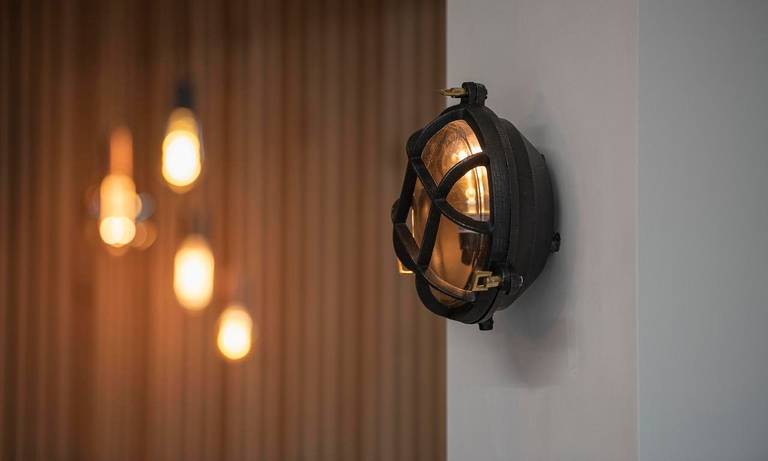 Bulkhead Outdoor & Bathroom Round Light - 8 Inch - Black, by Industville (Image supplied by Kinetic Workplace Limited, www.kinetic-design.co.uk)
What makes a great office design?
We like to keep it simple. Great design, regardless of what industry, must suit and fit the needs of the person consuming it. In the context of the office, if the design doesn't function in a way that achieves the goals set by the client, then it's a bad design.
Of course, every designer likes to show off and be creative or flamboyant with their designs, but if that gets in the way of the functionality or the objectives set, then what is the point?
We aim for the offices we create to flow, for everything to have its place – sometimes the best design is a design that is so subtle you don't even notice it improving user experience.
We can see in your portfolio that you have used numerous lights from our collection. How does handcrafted lighting upgrade interiors?
Quality is something we take very seriously.
Throughout our designs, we like to include bespoke aspects just because handcrafted, unique pieces elevate a design from nice to special.
It's all well and good having an impressive design, but if that design is not implemented using quality products from materials to furniture to lighting, then it will never be as spectacular as it could be.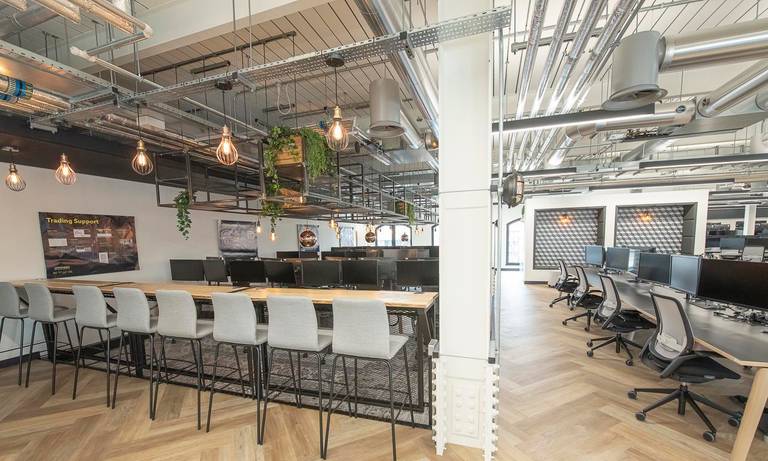 Brooklyn Balloon Cage Pendant - 6 Inch - Pewter, by Industville (Image supplied by Kinetic Workplace Limited, www.kinetic-design.co.uk)
What made you choose Industville lighting?
The range of products and styles featured in the Industville catalogue not only elevate our designs but also allow us to find lighting to suit every situation.
The sheer amount of customisation available for each product makes it a no brainer when choosing lighting for a design.
What is key when planning an office design, and what role does lighting play?
Lighting plays a key role in office design. From a very basic perspective, lighting sets tone, mood and can even affect the happiness of the people in the office. More specifically, we use lighting to emphasise certain aspects of our design.
If we want to draw people's attention to a logo, product, meeting space or even just a fancy bit of bespoke furniture, lighting can help elevate certain aspects of a design – it can often be the cherry on top.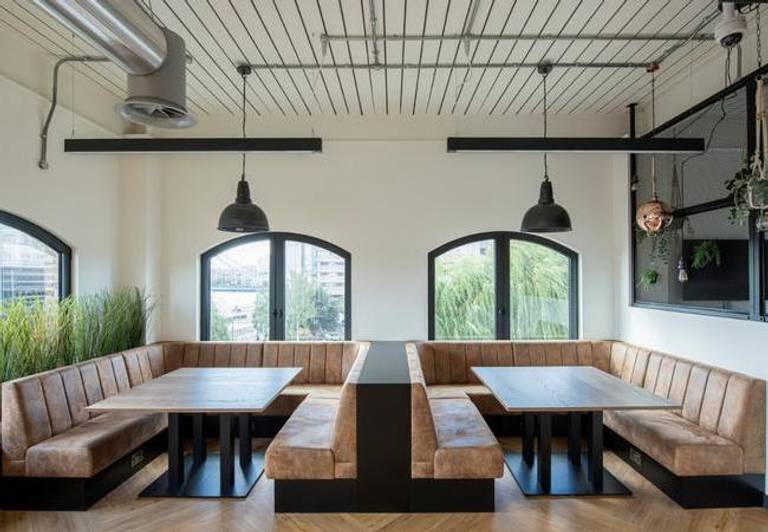 Retro Large Pendant - 17 Inch - Pewter, by Industville (Image supplied by Kinetic Workplace Limited, www.kinetic-design.co.uk)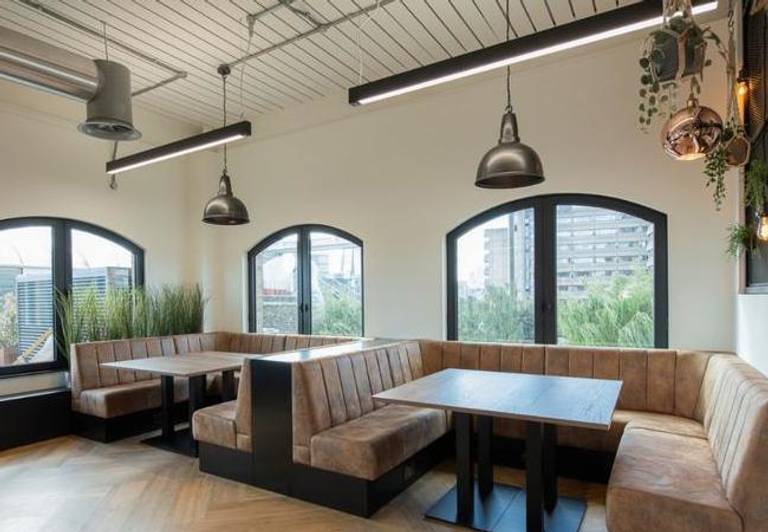 How versatile would you say our lighting is?
I've already mentioned how customisable the Industville products are.
The fact that you can choose every aspect of your light, from shade colour down to ceiling rose and chord finish, means that Industville can be used for so many circumstances.
How has office design changed through the years?
Office design has changed immensely. I mentioned earlier the offices of the 80s, 90s and early 2000s as being dark, suffocating places. We call them Matrix offices – similar to the office from which Neo escapes from at the start of the first Matrix film.
I am so happy that the world of office design has moved on in such a way as to allow designers to really express themselves.
The world has realized that life is better when you work in a place in which you feel happy and at home. That's why we are seeing the change from commercial, corporate offices to the stylish, warm and inviting interiors of today.
The term 'resimercial' best describes this trend in which we are witnessing an amalgamation of commercial and residential design within the office interiors world.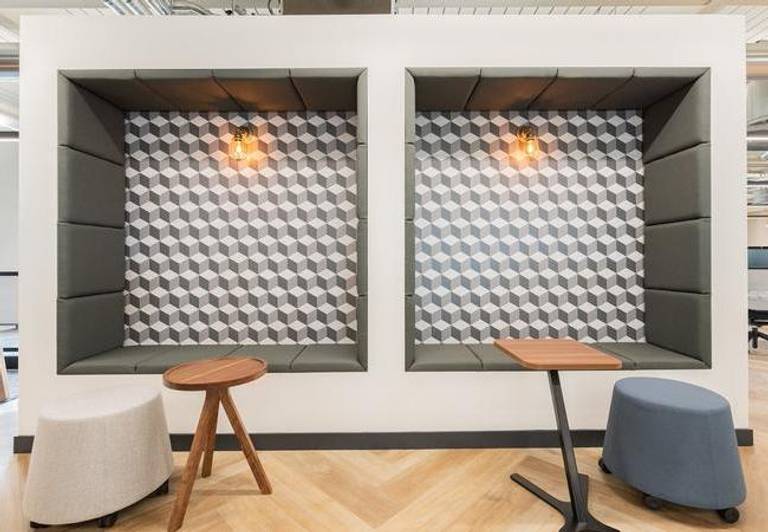 Orlando Wire Cage Wall Light - 4 Inch - Brass, by Industville (Image supplied by Kinetic Workplace Limited, www.kinetic-design.co.uk)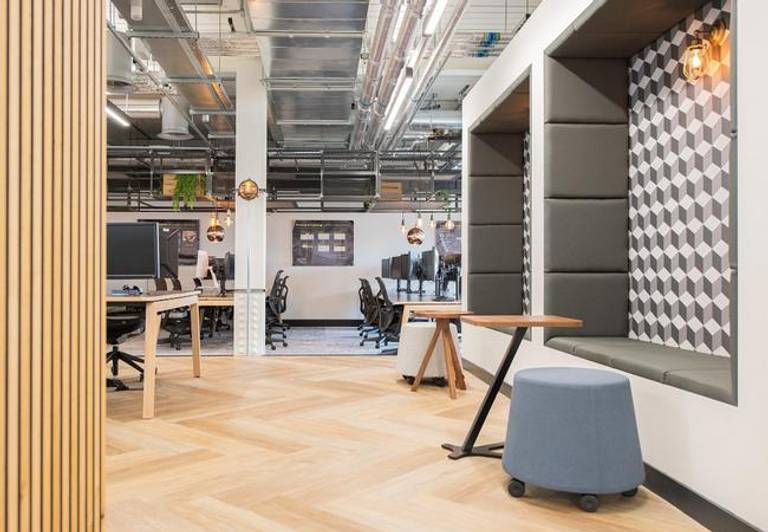 How do you think office design will change in the future?
After Covid, I can see the office becoming a place where meeting spaces, hotdesking and coworking are dominant. The office was already going in this direction before the pandemic, and I believe Covid has probably accelerated this change.
People have realized that they can work from home, but human beings still need that interaction with other human beings. Therefore, the office may become a place of collaboration and flexibility, where workers can go for a few days a week to mix with their colleagues and partake in meetings.
What advice would you give to readers that want to renovate their offices?
Choose designers that listen to you. It's easy for designers to get carried away with their design so that it moves more towards style than function. A design company that thinks it always knows best is a company that will eventually deliver a bad design.
Designers that listen to the needs of the consumer, designing solely around that principle, then bringing in elements of style as a secondary, will often have a smoother project experience and better end product.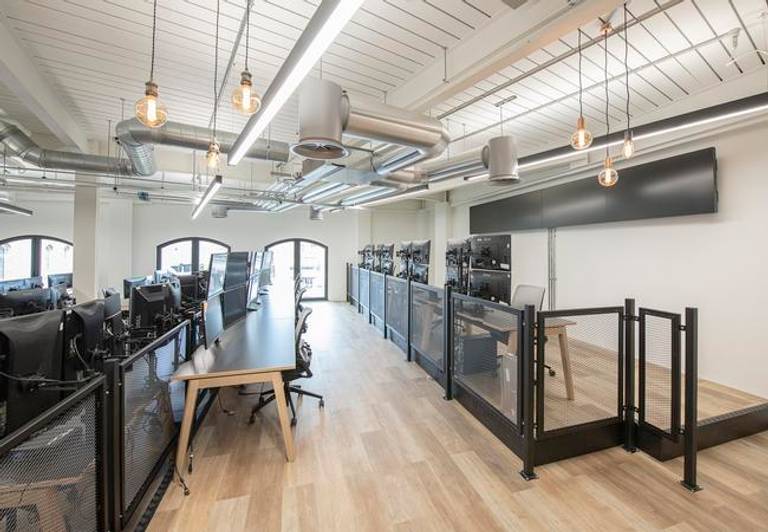 Brooklyn ES E27 Bulb Holder - Copper & Sleek Edison Pendant - 1 Wire - Copper, by Industville (Image supplied by Kinetic Workplace Limited, www.kinetic-design.co.uk)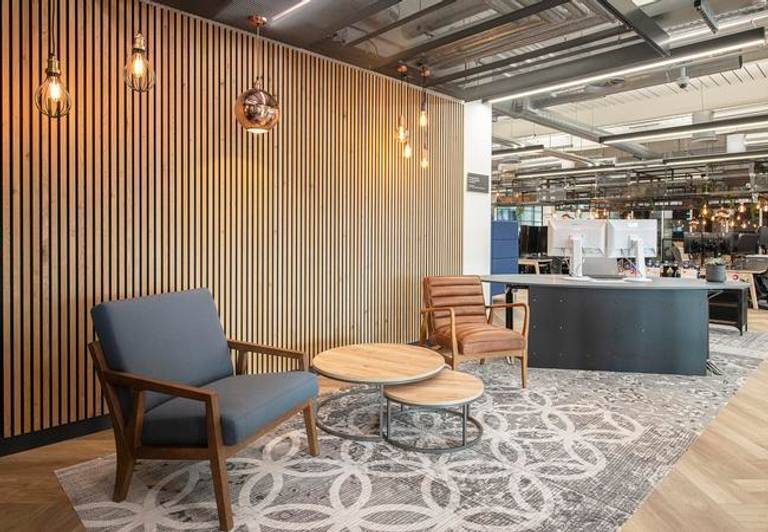 Do you get inspired through social media? Have you seen our posts, and have they helped inspire you?
Yes, we get a lot of inspiration through social media. Not only do we see other designs that we develop ideas from, but we also get to know new products from social media as well.
We follow Industville on Instagram, so we see and get inspired by a lot of their products featured there. A lot of the posts also feature other elements of design or include lighting elements showcased within a carefully designed room. So the short answer is yes!
If you would like to work with us on a project to create innovative and unique interiors, get in touch with our team today.
Alternatively, head over to our Facebook, Instagram and Pinterest pages to get more design inspiration and see our range of lights in action!