The past few years have transformed what we've come to expect from office spaces and their design. As the needs of office workers change, so too must the approach to workplace design.
Office interiors still call for functionality at their core, but increasingly, the top leading employers are now incorporating elements of comfort and features that facilitate improved employee wellbeing.
Our Office Design Predictions
With the mood of employees having such a significant impact on the results of a company, it's not surprising that employers are keen to ensure the office spaces they provide promote better collaboration, communication and team spirit to motivate and stimulate their workforce.
Marketa Rypacek, Managing Director at Industville Ltd, shares her key office design predictions that will define workplaces for companies in 2023.
1. Sustainable Office Design
As a society, we are continuously becoming more aware of our impact on the environment, and this has filtered through to commercial workplaces too. Companies are looking for ways to make their offices more sustainable day-to-day and this has influenced their purchasing decisions.
Instead of buying constantly low-priced and low-quality goods, employers are searching for products for their workplace that are environmentally friendly, will last longer and that their staff are proud of.
Where office lighting is concerned, this means using energy saving bulbs with good quality lights that will stand the test of time. Employers are keen to use sustainable and eco-friendly materials wherever possible and we are seeing big increases in customers opting for custom-made lighting pieces made from sustainable materials.
All our products are handcrafted and made from natural and 100% recycled materials such as pure brass and copper. This exciting new trend has evolved naturally and will continue to build momentum as we move into 2023.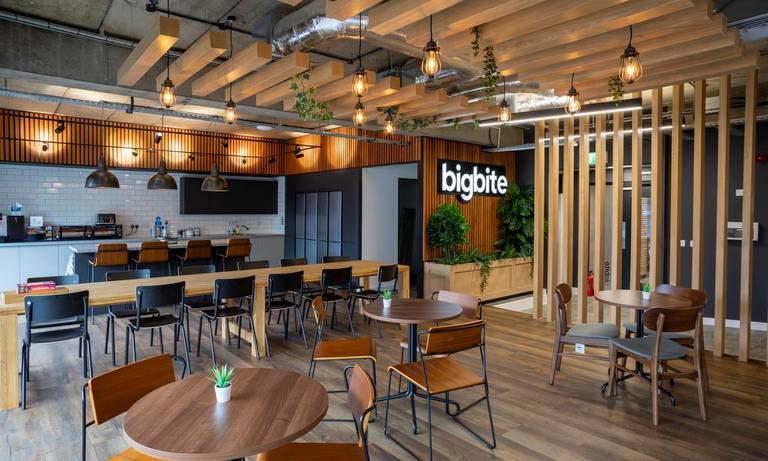 Retro Large Pendant - 17 Inch - Pewter and Orlando Wire Cage Pendant - 4 Inch - Pewter by Industville (Image supplied by @cocoonandbauer)
2. Open Plan Industrial Style Interiors
Open plan offices will continue in their popularity as they promote more possibilities for collaboration and communication between different employees regardless of their job position.
Industrial office interior style blends effortlessly with an open plan concept to create a modern, eye-catching surrounding that staff will enjoy working in and ultimately thrive. This may include iconic design elements such as exposed bricks and pipes, large windows, wood, and metal as well as larger industrial ceiling pendant lights.
It is important to strike the right balance between wellbeing, function, and style.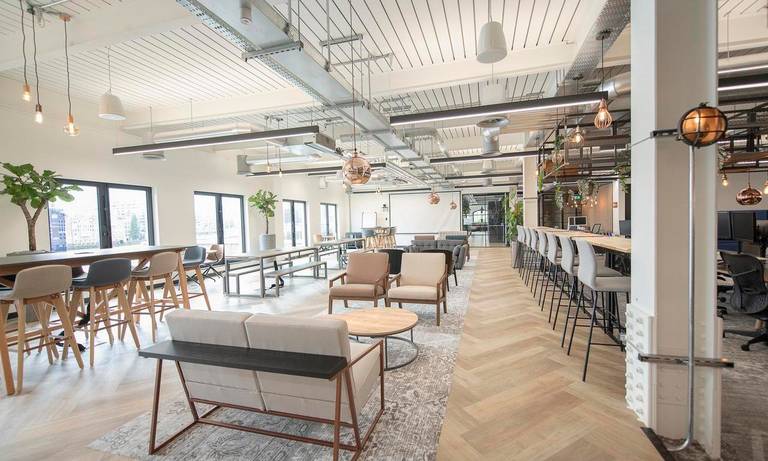 Bulkhead Outdoor & Bathroom Round Light - 8 Inch - Black by Industville (Image supplied by Kinetic Workplace Limited)
3. Bring Nature in with Biophilic Design
Biophilic design was once considered to be primarily concerned with plants, but 2023 will see a sharper focus on multisensory biophilic design. This includes the use of natural light, sounds, and scents from the natural world to improve employee's wellbeing.
Another aspect of biophilic design which is set to gain momentum in 2023 is the use of circadian lighting.
Our natural circadian rhythm is vital in ensuring general wellbeing, affecting everything from our all-important sleep patterns to the molecular clocks that regulate the timing of our cellular activities. Keeping this rhythm in check, means we not only feel better but also perform better too, hence companies and organisations are keen to ensure they provide the right environment for their workers, with the correct lighting playing a big part in this.
Biophilic design is becoming more than a trend; it is a scientifically proven philosophy of our innate connection with nature and natural elements. Modern humans spend about 90% of their time indoors, which has resulted in an outcry for a deeper connection with nature.
This has affected the lighting aspect of office space design immensely, demanding greater amounts of natural light, as well as softer lighting, instead of windowless cubicles under fluorescent lighting.
4. Flexibility & Diversity
Flexible office interiors are big news in 2023. This allows employees to move around the office space and choose a specific working zone that adjusts to their changing needs throughout the day.
This may include collaborative areas, quiet working zones, brainstorming areas and even areas for staff to socialise such as a canteen area, chill out zone and games rooms. The list is endless, but what is important is that employers create areas that evoke a sense of belonging among their employees which in turn will increase positivity and productivity.
5. Technology & Connectivity
Smart tech is an office design trend that will continue to grow, especially with the rise of hybrid working.
2023 will see office spaces adapt to support the emerging needs of flexible working and as such, modern office spaces need to consider areas for video conference meetings with excellent audio and visual access, to ensure staff stay connected whether they are working remotely or in the office environment.
When staff visit their office, they will be looking for 'special' additional things to improve their experience that they are unable to access at home. I expect to see an increase in agile workspaces such as booths, work benches and intimate working zones.
Not only will this help to accommodate the fluctuating headcount, but it also ensures offices are more welcoming and that staff remain engaged and productive throughout the workday.
Here at Industville, we always strive to ensure every business's lighting needs are met. Our extensive selection of functional and stylish fixtures is suitable for both domestic and commercial spaces, elevating offices, restaurants, retailers, hotels and the home.
If you have any questions about our commercial lighting services, please get in touch with the Industville sales team at sales@industville.co.uk.
Header image credit: Kinetic Workplace Limited