As we can see from the increased interest in including ambient modern office lighting and plants in office design, those soulless cubicle-style offices are a thing of the past!
How are modern offices embracing people-centric design to cater to the changing workplace landscape, and how does lighting factor into this?
What Does the Modern Workplace Look Like?
The last few years have drastically changed the way we view offices. When it comes to office design, many workplaces have been distancing themselves from a sense of corporate rigidity for some time now – which was only accelerated by the necessity of working from home and offering more flexible workplace options.
Modern office design of the past few years has focused on creating comfortable, safe environments where employees can work full or part-time, with hotdesking and hybrid working being the norm for many modern workers.
People-Centric Office Design
With employee burnout becoming all too common, employers are starting to see the value of human-centric design and creating a space that revolves around the staff, catering to their needs.
Rather than just being a place to work, more offices are incorporating social spaces where employees can relax and recharge, ultimately making them more productive in the long run.
Prioritising Workplace Health & Safety
This means offering socially distanced spaces where employees can continue working comfortably along with regular cleaning and the ability for air to flow.
However, prioritising workplace health and safety also means paying careful attention to ergonomic considerations like lighting, for instance.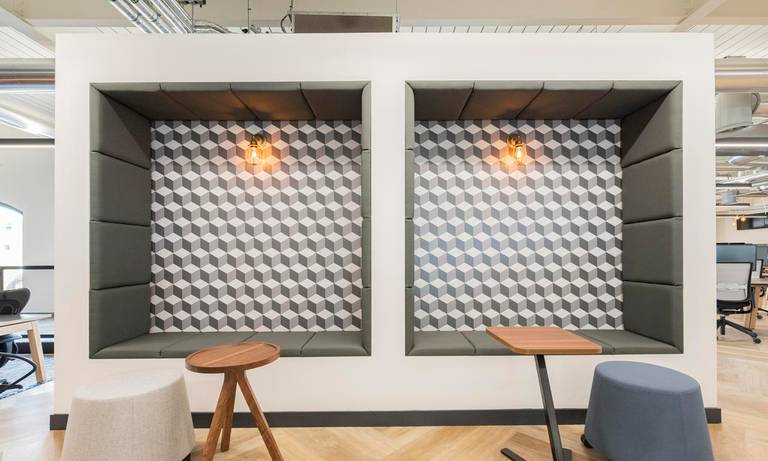 Orlando Wire Cage Wall Light - 4 Inch - Brass by Industville (Image supplied by Kinetic Workplace Limited)
The Importance of Lighting in the Workplace
Lighting is incredibly important in office spaces. While ambient lighting can influence the atmosphere and affect mood, task lighting is essential to ensure employees are always working safely and comfortably without straining their eyes.
Studies have shown that being able to control lighting in the workplace helps to increase job satisfaction and decrease workplace stress.
Office LED Lighting Design Ideas
Just because lighting is a necessity doesn't mean you can't get creative with it. LED lights are efficient at lighting a space but also cost-effective making them great additions to office spaces.
Our vintage Edison LED light bulbs give off a warm glow and bring a sense of retro character to a space, brilliant for modern offices looking to create a unique, charming design that is still functional.
Office Pendant Lighting Ideas
Stunning pendant lights aren't just for use in the home; they can also bring an on-trend look that boosts creativity to your office spaces.
Available in a range of styles and finishes, statement pendants can set the tone of your space, offering a contemporary or retro look depending on the rest of your office design.
Metallic lights look particularly striking in larger office spaces, giving a sense of grandeur to the everyday work area, but glass pendants can also work if your space requires a more delicate touch.
Industrial Office Lighting Ideas
The industrial look remains on-trend and timeless because of its versatility. While the industrial aesthetic can be sleek, refined and professional, it can also be a playful style that indulges creativity and personality – perfect for the demands of a modern office!
Industrial design embraces exposed elements and raw materials, something that can be incorporated for old, new and repurposed offices.
Metal lights provide an eye-catching highlight, especially when combined with other classic industrial features like exposed bricks, wires and pipes.
Adding home comforts to offices is also becoming increasingly popular as interest in the 'resimercial' trend rises. This means including things like comfortable seating, plants and characterful art, which can all complement the industrial trend wonderfully.
Home Office Design Ideas
For more and more people, the 'modern' office is a home office. Design here needs to be just as functional as traditional workplaces; however, it's important that you also create a space that inspires you to do your best work.
There are so many home office design ideas to draw inspiration from. Some of our top tips include:
Minimalism – you want a clutter-free zone that gives you room to work.
Space-saving furniture – Retro stools can effortlessly slide under desks, giving you a handy perch without taking up too much space.
Statement wallpaper – minimalism doesn't mean bland, and bright, patterned wallpaper can give your space a brilliant burst of energy.
Houseplants – Greenery can boost your mood and looks great when combined with a range of interiors.
Stylish task lighting – whether it's a table lamp or overhead pendant, good light levels are essential, so why not illuminate your room in style!
Whether you are transforming a traditional office space or sprucing up your home office, there are plenty of ways to embrace the office lighting trends that are shaping modern workplaces.
Browse our range of office lighting now to find the right fixture for your home or, if you're looking to design a larger office space, you can get in touch with our sales team by emailing sales@industville.co.uk and they will be able to guide you through your options.
Header image credit: Chalk Street Estates