With Scandinavian trends such as Hygge and Lagom taking the world of interior design by storm in recent years, the heightened focus on all things minimal continues to grow from strength to strength. Both homes and businesses alike are on the quest for the Nordic vibe, the need to achieve stylish Scandi interiors with a chic industrial twist has never been more prevalent.
The design itself is based around flawless craftmanship, cosy functionality, clean-cut lines and subtle elegance – all of which work fantastically well with wooden floors and furniture. This lends itself to work well with industrial-style interiors, as the rustic, authentic nature complements the minimalist, all-white décor for the perfect contrast, avoiding sterile, plastic aesthetic that is often associated with the trend. Below, we've explored just some of the ways you can achieve the Scandinavian style with an extra edge, for a swoon-worthy home with extra oomph and character.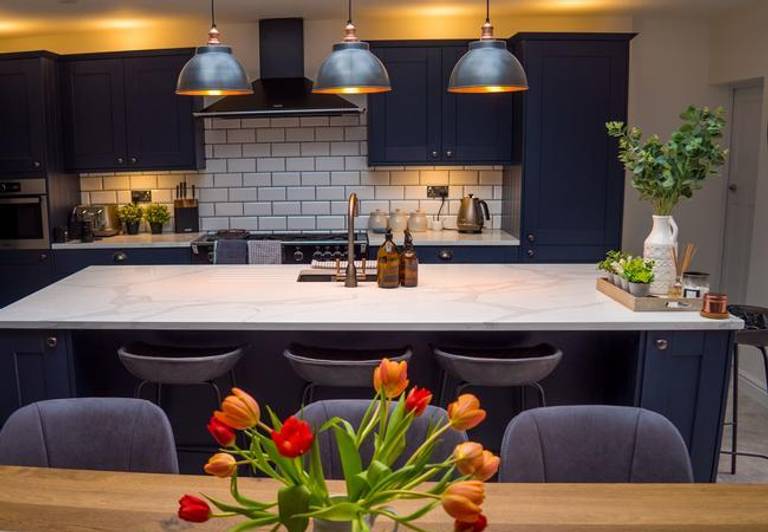 Brooklyn Dome Pendant - 13 Inch - Pewter & Copper, by Industville (Image supplied by Bradbury Joinery and Building Service)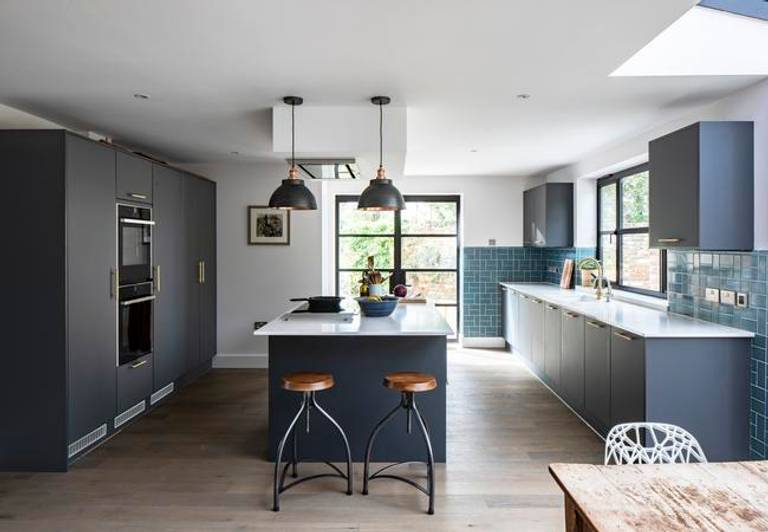 Splash Some Colour for Contrast
The typical colour palette for Scandi designs will appease your inner minimalist, with the décor following a light and simple colour scheme. White is often used as the primary colour, but far from washing out your interiors, this creates a blank canvas for you to utilize natural materials, including wood, to bring warmth and texture to any room. A white base will also provide you the creative freedom to introduce a colour combination of your choice, be it soft pastels or big, bold and beautiful shades. Pair black accents with white, neutral backgrounds for ultimate disparity that is bang-on trend. Our black or dark pewter vintage lighting fixtures are one of the best ways to get the look, whether it's a wall light, a ceiling pendant, or a combination of the two.
Use Textures and Materials to Give Character
Another way you can tap in to the ever-popular Nordic vibe is through mixing textures and materials, ensuring certain themes within the décor remain consistent throughout. Unfinished wood pieces, fur rugs, soft linens and raw, high-quality lighting fixtures bring a touch of nature into the home, further contributing to the restful, back-to-basics vibe for which the style is so renowned. Worn, high-quality leather can also add layers to your interior without sacrificing on style or comfort, a core element of this balanced lifestyle. All of our lights and furniture are handcrafted using authentic materials and help to complete the look. Plants are a fantastic way to add colour, texture and interest without feeling too cluttered, whilst also jumping on greenery, from one of the top Design Trends of 2018!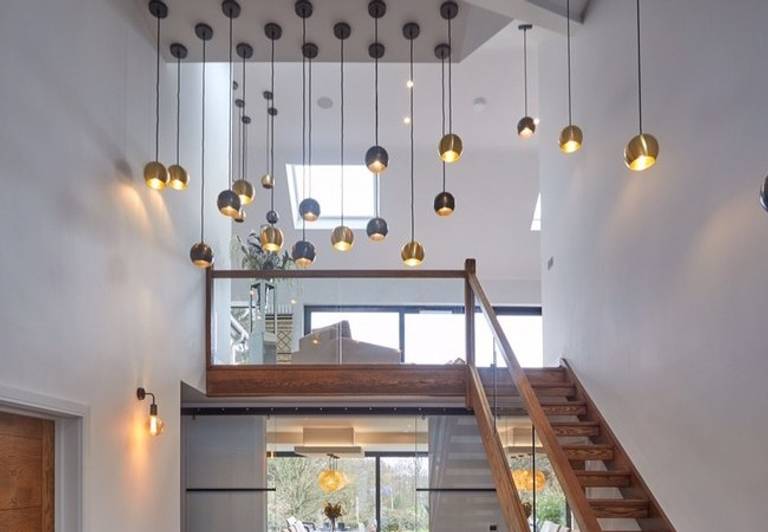 The Globe Collection Pendant - Brass & The Globe Collection Pendant - Pewter, by Industville(Image Supplied by Roy and Sue Aston)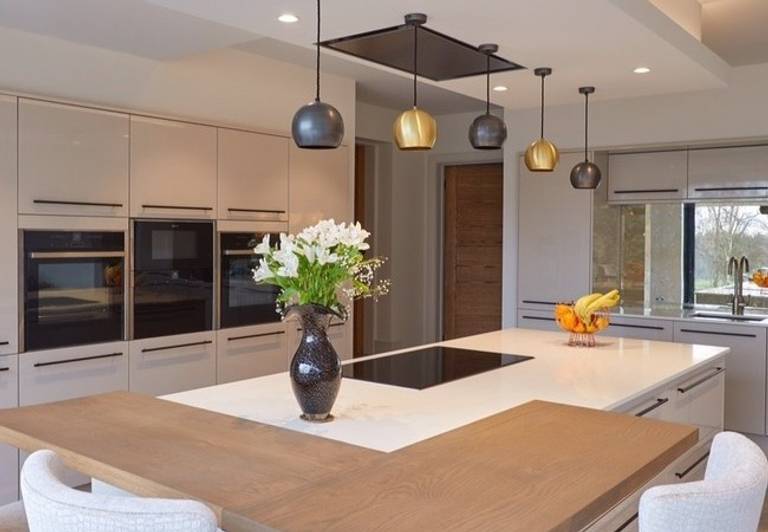 Get Your Lighting Right
One classic trait of Scandinavian homes is large bay windows to further the brightness and openness of a space. Alas, with property restrictions, not all of us are lucky to benefit from such airy interiors as a result of natural light. Fear not, for those with smaller windows can use minimalist light fixtures or one statement piece to pull the room together, and ensure it is adequately lit. Our sleek range is the perfect way to complement such a style, and everything from the handcrafted holder to the clean, cut bulb will look right at home in your Nordic palace. You can also add a shade from raw materials to be truly appreciated by guests or customers, while the minimalistic globe collection has an unmistakable Scandinavian charm to it.
Here at Industville, we were fortunate enough to have a chat with one of the owners of Simply Scandinavian, Caroline, to get her expert advice and find out more about the ins and outs of this Nordic craze and how you can incorporate it to any home. It all started around twelve years ago, whilst Caroline had her own blog and discovered Norwegian interior style blog pages and fell in love with the combination of the old and new in their interiors. That's when she decided she wanted to open a shop and sell Scandinavian style items that reflect her personal taste.
How would you describe the Scandinavian style?
There are two different Scandinavian styles in Denmark - they have the ultra-modern Scandinavian look which I am not a huge fan of. But in Sweden and Norway they go for a more traditional style inspired by cottages in the mountains that are very simplistic yet traditional, a simple look that we love.
How did you incorporate the English country style in to the Scandinavian look?
I believe these two styles complement each other. The traditional English country style is made up of bold colours and cluttered interiors usually, yet I wanted something more washed out, still representing the look but in more neutral colours. This is where the Scandinavian style comes in with its neutral colours and minimalism. For me it is about displaying your collections or home pieces without them overpowering your interiors. I tend to change the items in my house around with every season and put the rest in storage, so they do not overpower.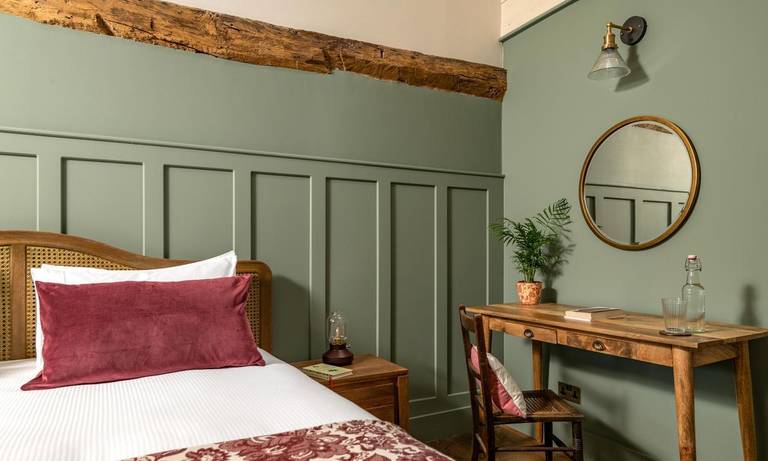 Brooklyn Glass Funnel Wall Light - 7 Inch by Industville (Image supplied by @dovecotebarns www.dovecotebarnsyork.co.uk)
How do you select the brands sold on your website?
They have to firstly fit the style of our website and they have to be items that we would by for our own homes. There is a lot of competition for similar looking products at a variety of prices and I always choose the best quality. I have had friends tell me that they had bought similar looking products to mine in the past, but the quality was not good. So, I make sure all products on my website are of high quality and ones I would use in my own home. I also like making sure that all the products on our website complement each other and would fit perfectly if someone bought the full range.
What made you choose Industville?
Well, I used to visit various vintage markets around London and I was always instantly attracted to industrial looking lighting. When I discovered Industville, they looked like high-quality lights and the fact that they are handcrafted persuaded me to buy some and see and I was not disappointed. I bought four lights to start with for my kitchen and whoever visited really loved them. That's when I decided that I must have them on my website! The other element I love about them is that you can change the shades and, as mentioned before, I love changing the interior look of my house so this is just perfect to give your interiors a whole different look.
How do Industville lights bring character to your interiors?
When I originally saw them, I loved the industrial look and feel which, in theory, should not match the English/Scandinavian one. But I had a vison and decided to be brave and try it and the result is stunning. The glass pendants are something I was searching for, but I did not find the exact ones I wanted. All the glass pendants I have seen before were frosted and the Industville ones were clear exactly what I was searching for. They really bring a nice light in the room and the quality shows. My kitchen is a very plain English kitchen as I like to call it - very smart and sharp and that's what I love about it. I wanted the details in the kitchen to be handcrafted and of high quality, my kitchen handles and knobs are all handcrafted and sculptured. I choose the lights from Industville because they have the same high quality and complement the whole of the style like statement pieces.
What would be your one tip to people going for the Scandinavian style?
I try to encourage people not to copy what they see but rather for them to put their individual touch to their interiors. My daughters have similar style kitchens, but they look fairly different because they've put their own little unique touches that make them unique and special.
We hope this blog has given you some inspiration for your 'Scandiventure' and look forward to seeing some of your transformed interiors! Shop our extensive range of vintage lights and furniture online today, and don't hesitate to get in contact today if you'd like any help or advice with creating your dream interior; our dedicated and passionate team would be more than happy to help!