With the long-awaited arrival of the World Cup kicking off and the weather finally warming up, we're all beginning to feel relaxed and summery. If you are not lucky enough to be at the stadiums in Russia watching the games live, you're probably at home getting ready for the ultimate football dream season in front of the big screen.
We've said it once, we've said it a thousand times; we'll never tire of highlighting the importance of a living room. A space where both family and friends alike spend most of their time, meaning it needs to convey the character of the family who lives there, whilst remaining cosy, comfortable and decorative. If you aren't jetting off to some far away land this summer, don't despair, we suggest hosting your own World Cup viewings to bring the party to your own front room!
Below, we've found some living rooms fit for any football legend or WAG, providing inspiration for those that need to 'dec' up before kick off! These examples allow you and your guest to relax and cheer on your favourite teams from the comfort of a stylish sofa, while the industrial style lights will set the perfect atmosphere!
Dare to bare
To add warmth to your living room with no fuss and a lot of character, exposed brick walls are the perfect way forward. Ideal as part of a laid-back, yet stylish decor scheme, deciding how many exposed walls you will have and what colour brick will change the overall atmosphere of your living room. An exposed wall can create a wonderful, versatile focal point to a room, giving it the ultimate industrial look. Exposed brickwork looks exceptionally impactful when paired with our vintage wall lights.
For a warmer, more stylish look, expose part of the walls with a warm coloured brick and accompany it with the warm tones in accessories, including copper clocks and lights to truly bring the warmth in this living room. We can visualize a swanky get-together to watch the big game in this classy living room anytime.
For a cool yet cosy look, this living room has it right with exposed walls, wooden tones throughout, and a floor to match. The interior screams comfy football season, and is the perfect hosting area, whether you'd like to follow the goals on screen or find out where the beautiful cushions come from! The grey tones and pewter lights really compliment this exposed wall and give it an unparalleled industrial vibe.
The perfect blend of classic interior styling with a modern, industrial twist; there are not many living rooms in this world that wouldn't benefit from the sought-after industrial vibe. Given the summery season, we recommend adding greenery wherever possible to knit the two styles together, creating a harmonized décor that won't go unnoticed. You can read more about incorporating greenery into your design schemes, here.
Exposed brick in grey need not be boring, dull or monochrome. This industrial living room lets the textures do the talking with a minimalistic look and the metallic accents complement the lighter tones for the ideal contrast. A modern take on the exposed wall vibe, giving it the ultimate city loft feel. Can you picture yourselves sat here sipping on a few pre-game cocktails? We certainly can!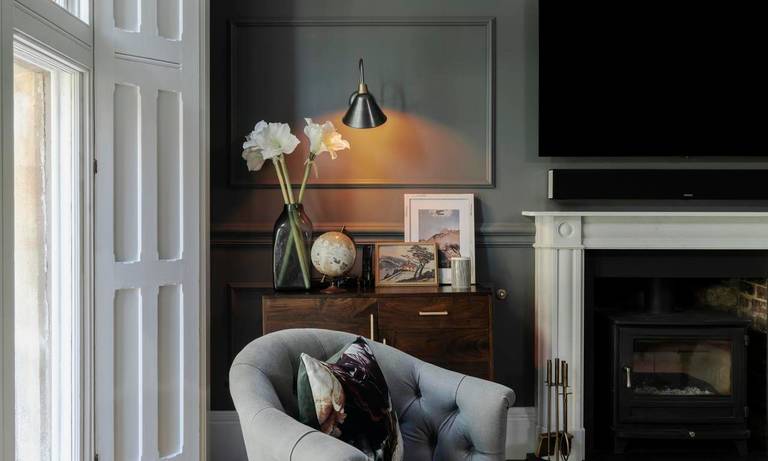 Swan Neck Cone Wall Light - 8 Inch - Pewter, by Industville (Image Supplied by Fawn Interiors Studio, Black Ash Studio)
For a more rustic-style, industrial feel a distressed brick wall is perfect, and it does not need to be painted or smoothed. Let its character shine through with dainty crafted décor and natural tones contributing to creating perfect imperfections to set your interiors aside from the rest. The perfect compromise for any man caves that need a chilled, relax feel without sacrificing the overall style of the home!
The key to embracing rusticity lies in finding the perfect balance between rough and ragged and welcoming and comforting. The design style requires you to highlight the unique nature of raw materials whilst celebrating a simplistic way of life and minimalism. It's the ideal way forward for those with older houses, as instead of obsessing over symmetry, you can work with the chips and holes to create a 'lived-in' vibe that is bang on trend. For those interested in tapping into the Scandinavian trend of Hygge, stripping your home back to its original features is the best way to do so, and will save you a fortune on candles and rugs!
Purposely undone
The unfinished look can be subdued in palette, letting the texture shine, or it can celebrate random layers of mismatched but ultimately complimentary colours. The undone style gives you the creative freedom to experiment with different design schemes, and you can change your mind on themes without paying the consequences of a complete interior overhaul. This cosy apartment with wire pendants gives us the retro vibe and we are loving it – simple, yet very effective!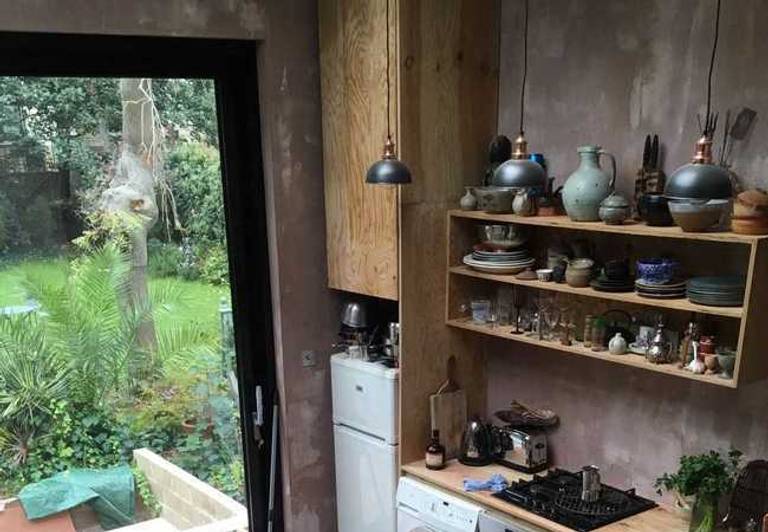 Brooklyn Dome Pendant - 8 Inch - Pewter & Copper, by Industville (Image Supplied by Richard Wilson home owner and filmmaker)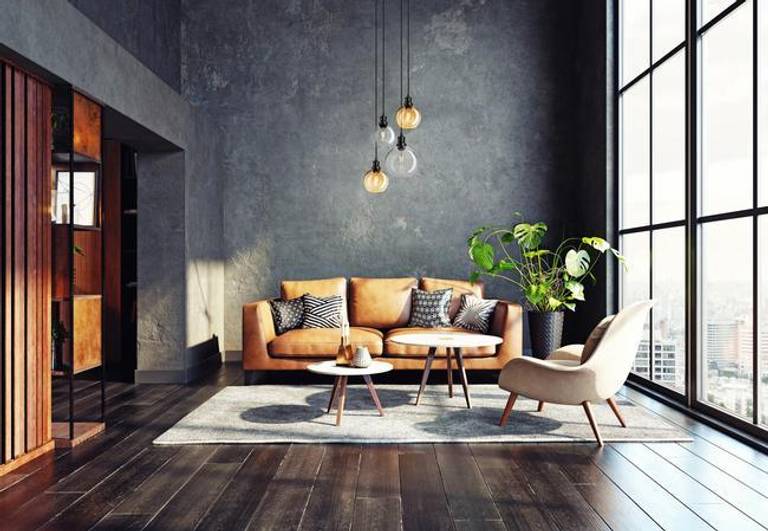 It's all about colour
Colour popping is one trend that has been around for a while, but we still seem to be loving this statement look – it's the perfect way to convert the mood and voice of any room.
The World Cup and colour go together and living rooms that have a colour pop are absolute goals! The dark walls trend comes back in to play here, really bringing the metallic lights and bright interiors to life – we're already cheering living rooms like this, and the games haven't even started!
You can colour pop your own living room with a bright piece of furniture such as a chair or take a subtler approach with embracing bright and bold shades in cushions, throws, rugs, original statement art and other accessories. We love this timeless trend and think that the dark walls and splash of colour works exceptionally well with our vintage light fixtures!
A subtler colour pop that looks good with every interior is a copper. Copper is the perfect blend of vintage and contemporary and brings whichever room it is placed into life, attracting the eye and being timelessly stylish. It is an ultra-warm metallic, which means you do not need a lot of copper to make an impact and even slight tones like the living rooms below will have the wow-factor.
So, put your feet up and enjoy the upcoming games in your cosy living rooms - let the World Cup begin! Neutral tones, copper lights and a comfy armchair. These living rooms are more goals than you'll see in the entire competition! Here at Industville, we offer a range of industrial style lighting and furniture for you to kit out your homes. All metallic shades are handcrafted using high-quality, raw materials and will be dispatched the next day so that all of your design projects can be finished on time. If you'd like to discuss any of the products or services offered by Industville, please don't hesitate to contact us today, where a member of our passionate and dedicated team will be more than happy to help!
Main Image: Swan Neck Round Wall Light - 11 Inch - Pewter, by Industville (Image Supplied by Egle)