There's nothing like the smell of freshly brewed coffee in the morning, and with a nation of coffee lovers, coffee shops are more popular than ever in 2018. But high-quality coffee beans and the availability of soy milk are just the tip of the iceberg when it comes to attracting and converting loyal customers. Capturing the regulars is key, and creating a comfortable, stylish interior that people want to relax in is of paramount importance, so we've listed a few of the best ways to add a unique style to your coffee shop.
Embrace simplicity
Perhaps unsurprisingly to those with an interest in interior design, minimalist themes and vintage industrial styles are evident throughout the trendy, hip coffee shops of the moment, with owners favouring simplicity when it comes to almost every aspect of décor. Cut through the clutter and opt for both practical and comfortable furniture to create an inviting environment where your customers can relax! Consider using natural colours and materials such as wood and give each table and chairs enough room where they won't need to immerse themselves in the conversation happening behind them, whether they'd like to or not! Our pendant bulb only lights are the perfect way to convey simplicity, along with our globe collection.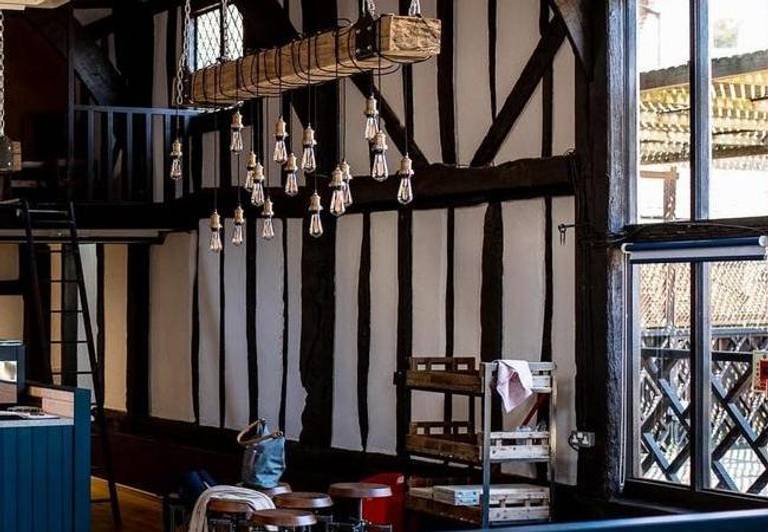 Sleek Edison Pendant Light - 1 Wire - Brass, by Industville (Image supplied by Coffee Barn @coffeebarnkitchenanddeli)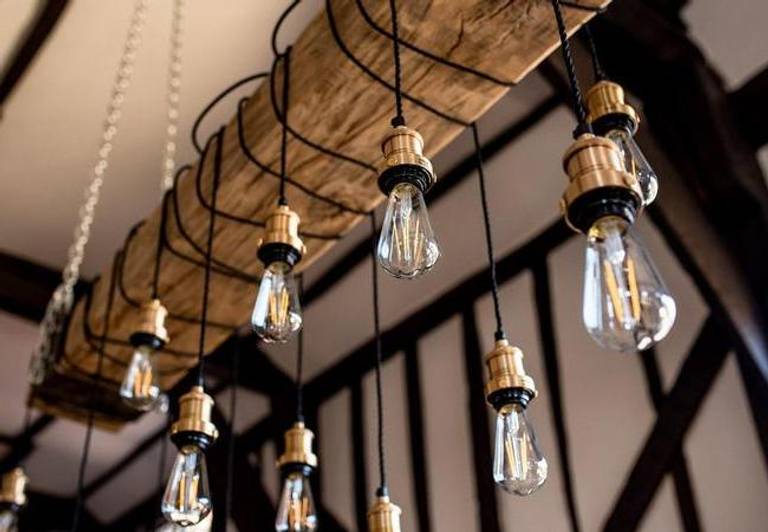 Choose quality over quantity
Again, this will come as no shock to seasoned interior designers, but when it comes to the furniture and accessories in your café, opt for products that use high-quality materials as opposed to high volumes of low-priced tat. Just as you wouldn't dream of buying low-quality coffee beans and sub-standard tea bags, avoid mass-produced, cheap materials whenever possible, and remember high-quality materials last a lot longer than their cheaper counterparts. You're looking to set your café aside from the rest, so you need to give customers a reason to visit your establishment instead of others in the area. All of our products are created from pure, raw materials for an original, authentic finish and can be made in whichever colour or design you desire, thanks to our extensive range of bespoke services.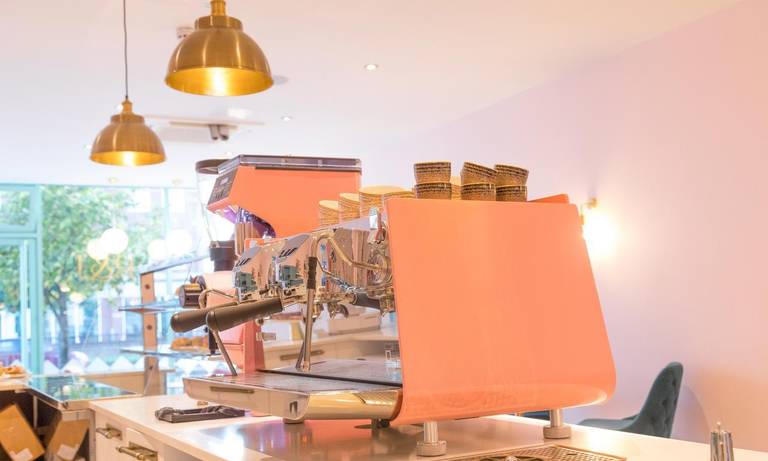 Brooklyn Dome Pendant - 13 Inch - Brass, by Industville (Image Credit: @romeoandjulietscafe, @brookeharmony_design)
Decide on your style
Consistency is key, and whether you have a pre-existing tone of voice to adhere to or you're in search of a completely new style, everything must be harmonised. From retro stools to edgy latte art, find an aesthetic that suits your brand and commit to it, implementing the ideal to every element of your business. From cosy country cottage to an urban retro space; there's a range of styles to choose from, and here at Industville, we have a light that suits all! The vintage industrial theme is versatile, and can be implemented in most existing themes, and the best way to do so is with our vintage bulkheads. An industrial look with a nod towards the nautical; browse the extensive collection online today!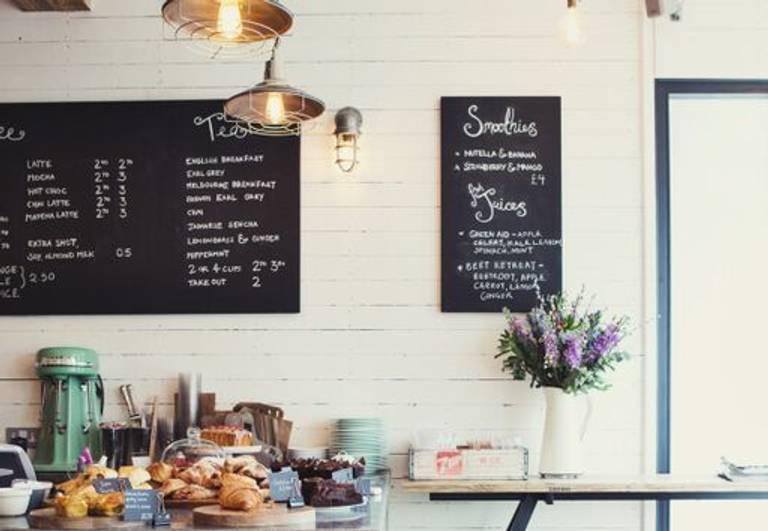 Bulkhead Outdoor & Bathroom Sconce Wall Light - 12 Inch - Gunmetal & Retro Enamel Pendant - 14 Inch - Pewter, by Industville (Image Supplied by @Flotsam & Jetsam Cafe)
Mix and match
When it comes to lighting, we recommend using a variety of styles from antique wall lights highlighting original artwork to spectacular ceiling pendants, suspended elegantly above tables. Opt for the same shade to create harmony or mix it up a little with more subtle connections. This is the ideal opportunity to give your interior a uniqueness that reflects you and create a lighting solution that is as practical as it is decorative.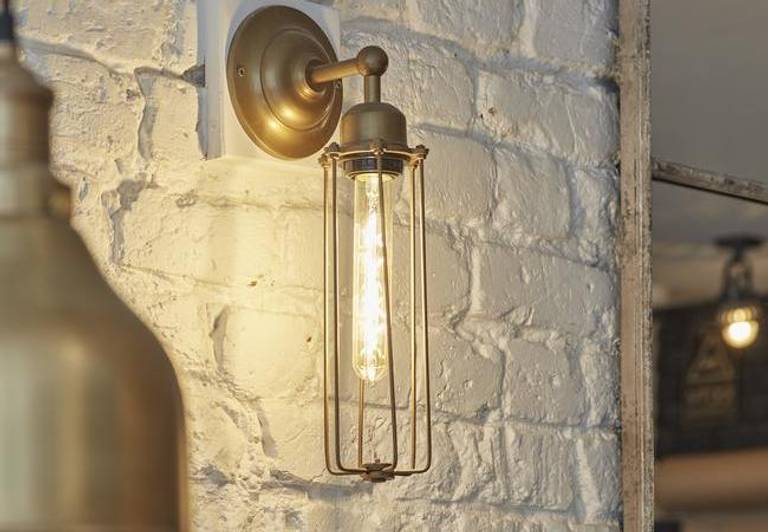 Orlando Cylinder Wall Light - 3 Inch - Brass, by Industville (Image Supplied by Andy Haslam Photgraphy)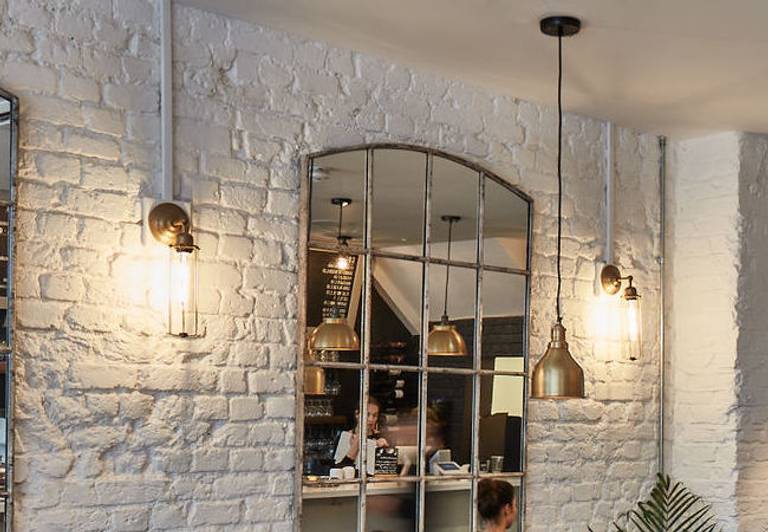 Think furniture
First and foremost, your customers need a comfortable seat to enjoy their beverage. This plays a vital role in attracting return customers and increases the chances of a second purchase tenfold! However, comfortable seating shouldn't mean you have to sacrifice on style, and here at Industville, our range of retro stools are the perfect way to tick all the boxes! Each stool is made with real, high-quality leather for comfortable cushioning and has retro metal legs for the ultimate space-saving solution.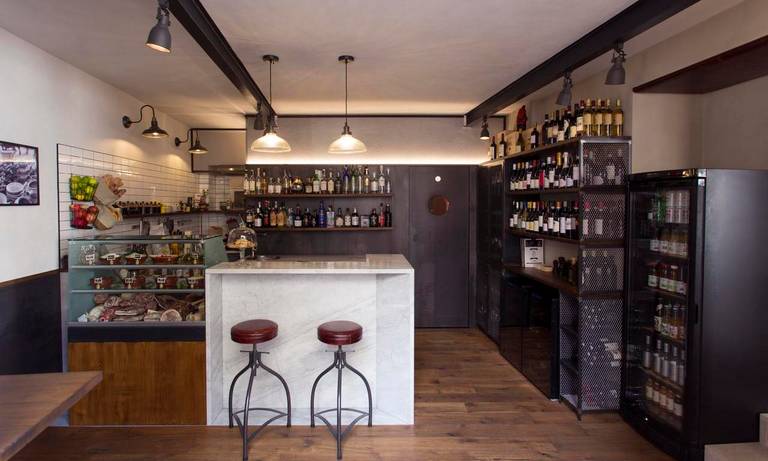 Cooper Leather & Metal Adjustable Bar Stool - 34 Inch; Brooklyn Glass Dome Pendant Light - 12 Inch & Swan Neck Step Wall Light - 16 Inch - Pewter, by Industville (Image Supplied by Studio Pipitone - Ing. Vito Pipitone – Arch. Cristina Barranca)
Don't underestimate the importance of lighting
The importance of lighting when it comes to café interiors should not be underestimated. Too bright, and you'll give people a headache, too dim, and people will find it difficult to work or read on your premises. The balance is a tricky one, but you can create an intimate atmosphere that accommodates for all with the help of dimmable bulbs, our brand-new large light bulb range and through making the most of natural light during daylight hours. A combination of mirrors and strategically placed lighting will all you to create the illusion of space, which is particularly valuable for smaller spaces. Remember you can mix and match your lighting styles, giving your customers the choice for whichever seat offers them the optimum environment for their proposed activity.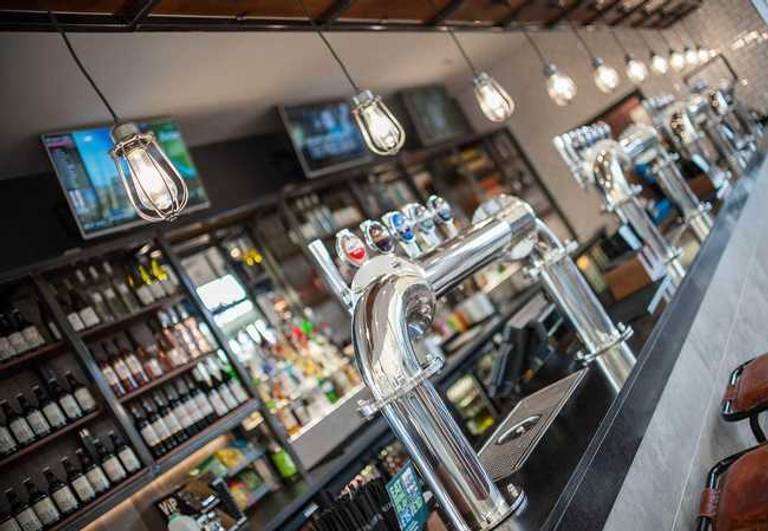 Orlando Wire Cage Pendant - 4 Inch - Pewter, by Industville (Location Top Golf, Watford. Design by Benchmark Designs)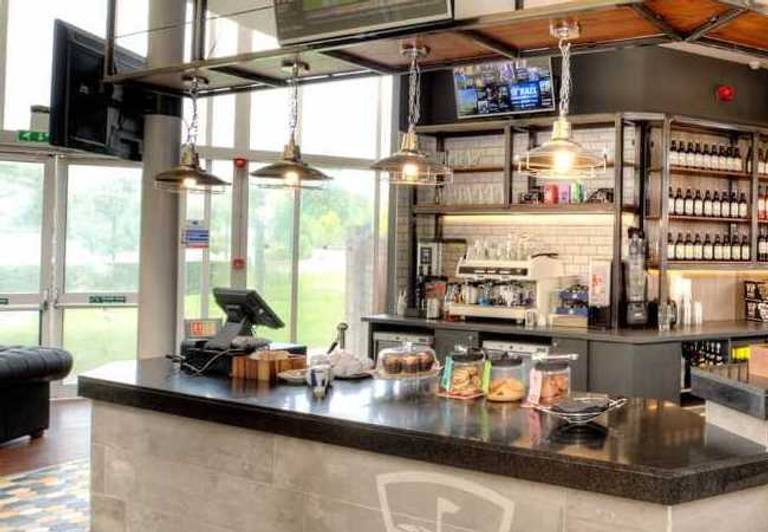 Celebrate uniqueness
To stand out from the competition; you're going to have to try and be as unique as possible! Opt for original artwork and focus on making sure each element is handcrafted to add character to your café. From edgy-looking cluster lights to interesting art sculptures; anything that gets people talking about the inside of your café can only be a good thing; the more 'Instagrammable', the better…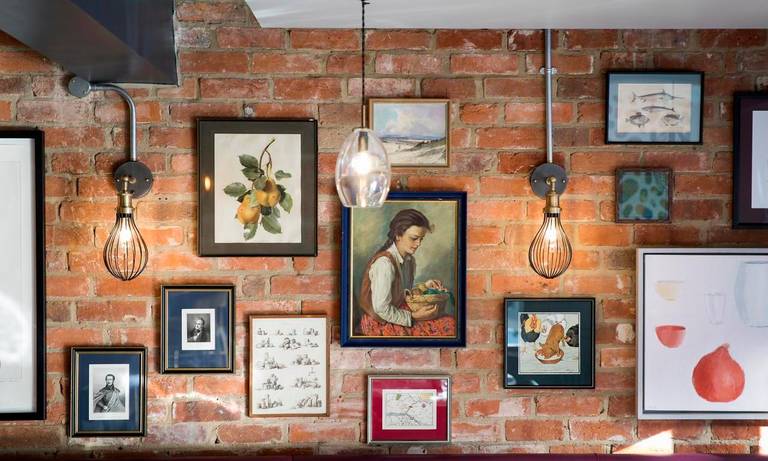 Brooklyn Balloon Cage Wall Light - 6 Inch - Pewter, by Industville (Image Supplied by Pompette by Wiedemann Restaurants Ltd. Photographed)
Be original, little details are important
Finally, while high-quality beans and customer service with a smile will undoubtedly get you some of the recognition you deserve, you need to think about your coffee shop as an experience, which means not cutting back on any aspect of the interior. Concentrating on the little details will work wonders for your café, and considering artwork, music, aroma, accessories, brightness, comfort and anything else you can think of will resonate with customers, making them more inclined to come back for more.
We hope these tips have given you inspiration for your café interior, although many of the items listed can also be applied to shops, bars, restaurants, hotels and even within your own home. Explore our extensive range of industrial café lighting online, and don't hesitate to contact a member of the passionate and dedicated team at Industville if you have any questions. All of our products are available in high volumes and dispatched the same day for fast delivery, ensuring that your projects can be completed on time.