From the clever use of space to incorporating numerous textures, there are plenty of ways to enhance your traditional cottage kitchen with lighting.
Kitchens that embrace traditional, country, farmhouse, rustic, and cottage vibes should, by their very nature, radiate warmth and charm. Lighting plays a hugely significant role when it comes to creating this feeling and successfully pulling off these cosy styles.
When thinking about incorporating vintage lighting styles into your country cottage kitchen, there are so many things to consider. Is your space the right size? Does your kitchen have low or high ceilings? Can the lights effectively illuminate the room? Will your lights combine well with your current style?
The list of questions you'll need to ask yourself might seem endless, but answering them will help you refine your ideas - to give you a useful place to start, we've provided a bit of inspiration and all our best tips and tricks for lighting your rustically styled kitchen!
How Do You Light a Kitchen in Style?
Firstly, let's address the practical elements when lighting a kitchen. As the heart of so many of our homes, the kitchen should be somewhere that is both functional - somewhere you can cook, eat and study - and an enjoyable place where you can relax and socialise in comfort.
For this reason, layering different kinds of light is important for kitchens. You should aim to have different lights that serve different functions. This will include:
General lightning - overhead ceiling lights that help illuminate the entire space.
Task lighting - spotlights or hanging pendants that offer light above countertops and kitchen islands.
Decorative lighting - other lights that will complement your space's style and build on the ambience. Again, this could include pendants, wall lights or statement pieces.
Once you have established which areas of your kitchen need which kind of illumination, you can start considering what you want from a style and design perspective.
Consider the Size of Your Kitchen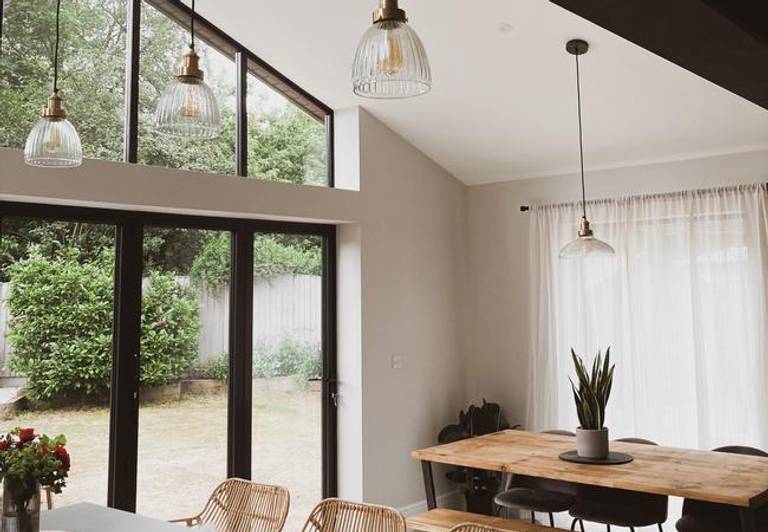 Brooklyn Glass Cone Pendant Light - 7 Inch & Brooklyn Glass Dome Pendant Light - 12 Inch, by Industville (Image supplied by @42_stories_)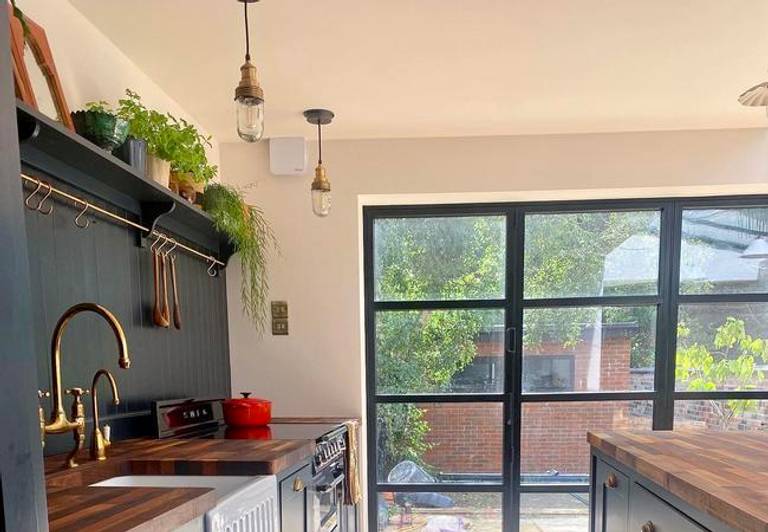 The style of light you use for a particular area of your kitchen will often rely, at least in part, on the size of the area you're working with.
When choosing your dining area lighting, you should first consider the size of your dining table. You want your dining room lighting to complement the space, shed light on those swanky starters, and illuminate cosy family dinners.
What you don't want is an overpowering light that intrudes into the space.
For a six-to-eight-seater table, go for an eye-catching statement light, pendant clusters or a couple of pendants in a line overhead. For smaller surfaces or round tables, a single pendant will work better.
You should also ensure that lighting is in proportion with the other furniture and accessories in your kitchen. Oversized statement lights can make a great feature, but if your space and kitchen furniture are on the smaller size, too many large lights will look out of place.
Practical Lighting Ideas For Small Kitchens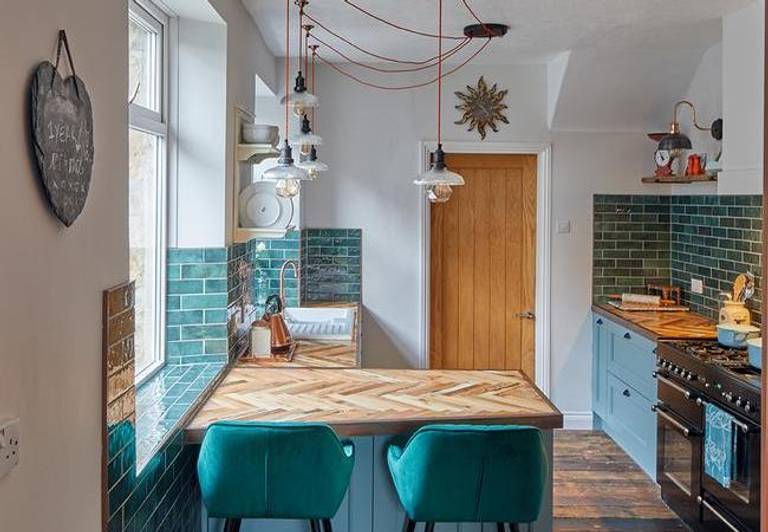 Glass Dome - 8 Inch - Shade Only, Ceiling Rose – 5 Outlet – Pewter, Brooklyn ES E27 Bulb Holder - Pewter, Red Twisted Fabric Flex - 3 Core Braided Cloth Cable Lighting Wire, Edison Hook Ceiling Rose - 1 Outlet - Copper & Swan Neck Outdoor & Bathroom Dome Wall Light - 8 Inch - Pewter & Copper, by Industville (Image Supplied by Catherine Muir Interior Design, www.catherinemuirinteriordesign.co.uk / @catherine_a_muir)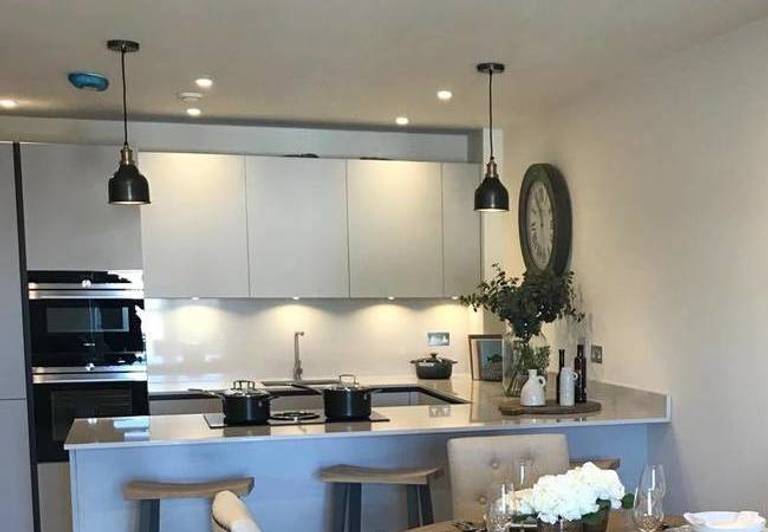 If you live in a cottage or smaller house, you may have limited space in your kitchen. This does not mean you have to sacrifice on style when embracing new lights. Smaller kitchens can have just as many wonderful design opportunities as more spacious rooms - you just have to get creative!
If your kitchen is quite small and compact, consider flush mounts or elegant wall lights to avoid over-cluttering the room.
Vintage glass lights work particularly well in smaller traditional kitchens as they contribute to a bright and airy feel.
Use a Variety of Textures in Your Kitchen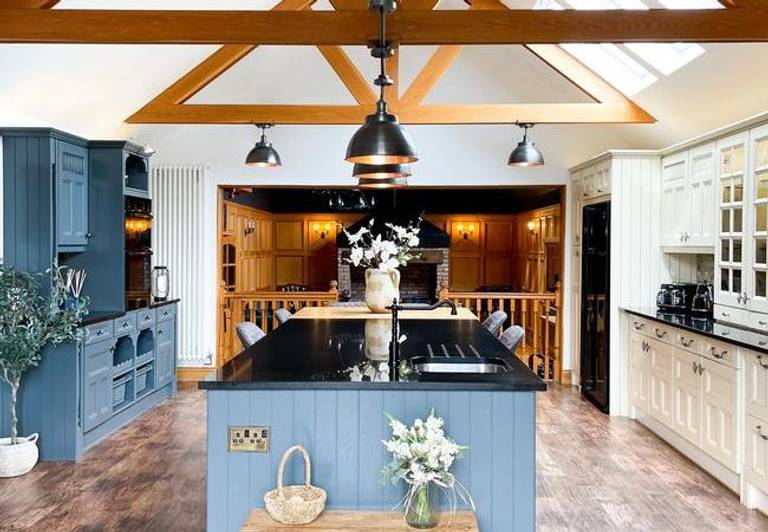 Brooklyn Dome Flush Mount - 13 Inch - Pewter & Copper,, by Industville (Image supplied by @storries.scottish.steadings)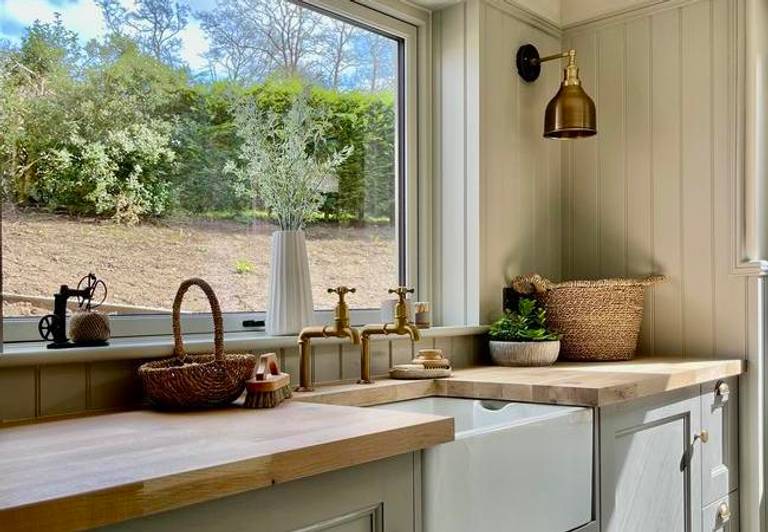 Traditional and country kitchens tend to have an abundance of different natural textures, helping to create that welcoming, homey feeling.
Texture and all the contrasts you create by combining them play a significant role in unearthing the character and uniqueness of rustic space; you'll want to bear this in mind when choosing your lights.
If your dining furniture and features are rustic timber, our industrial lights - made from a variety of natural metals - are perfect for adding more depth and complementary textures to your kitchen.
Available in a range of shades, including pewter, brass, copper and now matt black, our lights will blend perfectly with spaces that incorporate a range of softer, natural materials.
Integrate the Industrial Look
When you think of the stark, bold look that an industrial aesthetic provides, you might not be entirely sold on the idea of incorporating it into your inviting traditional kitchen. However, you'd be missing out on a winning combination!
Subtle touches of the industrial look through your lights and other finishing touches gives you a brilliant opportunity to play with different shapes and eclectic styles. Curved dome pendants that are staples in industrial lofts will look just as at home in a cosy cottage kitchen, especially when you warm it up by using copper and brass shades.
Whichever lights you choose, there is a vintage bulb to complete the look. Filament bulbs contribute to this softening of the industrial look perfectly while also providing a pleasant warmth to your kitchen.
Exposed bulbs or cage lights can also work particularly well in farmhouse kitchens with exposed beams or brick walls.
Embrace Individuality
Just because you have a traditional kitchen doesn't mean you have to stick to any preconceived notions about the look. Explore your own style and work with the quirks of your kitchen.
Whether you want a modern, classy kitchen with sleek lights or a dining area bursting with warmth and colour, there is plenty of scope to fit these ideas under the umbrella of a traditional or rustic kitchen.
Combining different styles of lights, like classic dome pendants or delicate glass wall fixtures, for instance, can help you embrace that vintage feel and show off the depth of character.
When attempting to create a stunning traditional kitchen full of warmth and life, there is no denying that you must pay careful attention to your lights. There are so many fantastic design ideas to embrace to take your kitchen and lighting scheme to the next level.
Are you proud of your latest kitchen project or want some more inspiration to bring your space back to life? Why not join the conversation on our social media channels? Head over to our Facebook, Instagram and Pinterest pages or join in with the hashtag #Industville.
Header image credit: @juliatomsphotography and @brhdesign