Our exterior spaces often don't get as much love as our interiors when it comes to getting creative with design. However, as outdoor living trends become increasingly appealing to more people, we're seeing the adoption of various functional and stylish outdoor lighting trends.
To ensure your home or business's exteriors can stay shining, Industville's Managing Director Mara Rypacek Miller shares her predicted outdoor lighting trends and top tips for 2023.
1. Layered Outdoor Lighting Designs
Just like when designing your interior lighting scheme, you should embrace a range of light sources throughout your outside space, creating little pockets and pools of illumination. This allows for luxurious highlights and a more welcoming atmosphere.
Work out which elements of your outdoor space you want to highlight – whether for practical or aesthetic reasons. Once you know which areas need brightening, consider which form your multiple light sources will take. This might include small garden and outdoor lights to guide walkways or statement pendants in areas for eating and socialising.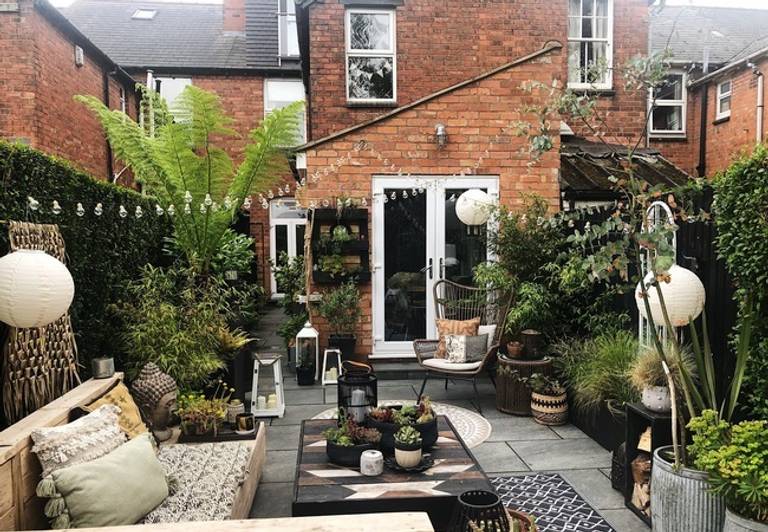 Bulkhead Outdoor & Bathroom Sconce Wall Light - 12 Inch - Gunmetal by Industville (Image supplied by @Theresa_Gromski)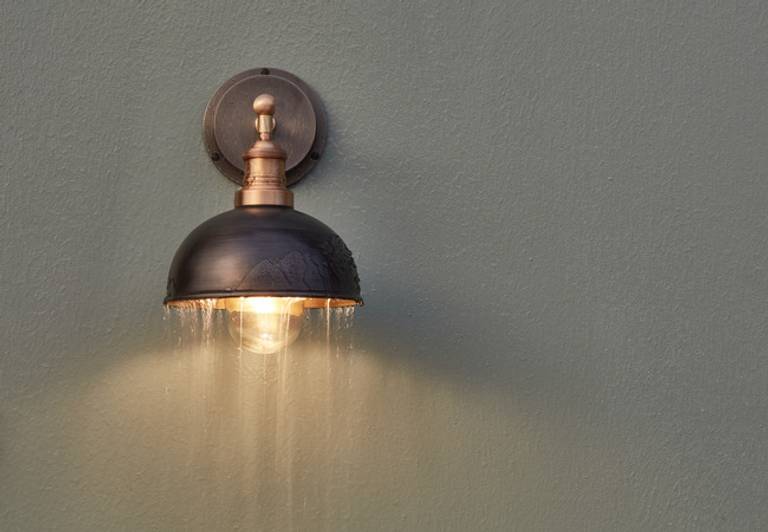 2. Metallic Garden Lights
Outdoor lights with a metallic finish are mainstays that aren't going away any time soon. Metal finishes like pewter, brass and copper work beautifully against brickwork, wooden fencing, concrete and other natural elements.
The timeless appeal of metal fixtures also lends itself particularly well to coordination with other garden furniture and accessories. Along with adding interest with texture and shine, sleek metals can also bring a sense of luxury to an outside space.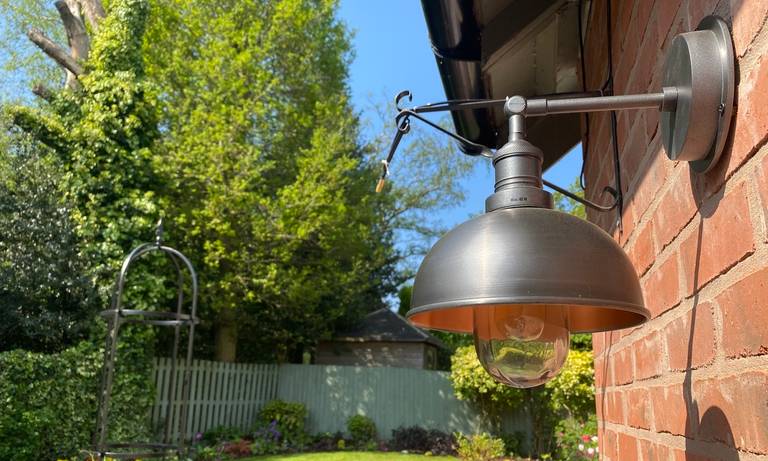 Brooklyn Outdoor & Bathroom Dome Wall Light - 8 Inch - Pewter & Copper by Industville (Image supplied by @Gardener_on_theedge)
3. Bold Shapes
Bold shapes are also set to be big, especially as more people start bringing their personal styles into outdoor spaces with increased enthusiasm. Big, statement lights with dynamic silhouettes add character and definition.
Modern outdoor lighting designs come in a range of striking shapes and sizes, helping to further enhance the overall look of an outdoor area. Use complementary wall lights and outdoor pendants for a bold, cohesive scheme.
4. Seamless Inside-Outside Looks
Gone are the days when the choices for outdoor lighting were limited to plain, uninteresting white security lights; today's modern designs are just as stylish and varied as those you would find inside. Exteriors are becoming extensions of interiors, carrying your style and design themes throughout the different spaces.
Open-plan designs are perfect for creating a seamless transition from your interior to your exterior. In fact, many of our industrial outdoor lights are available in indoor designs too, ensuring you can create a style that looks as good outdoors as it does in.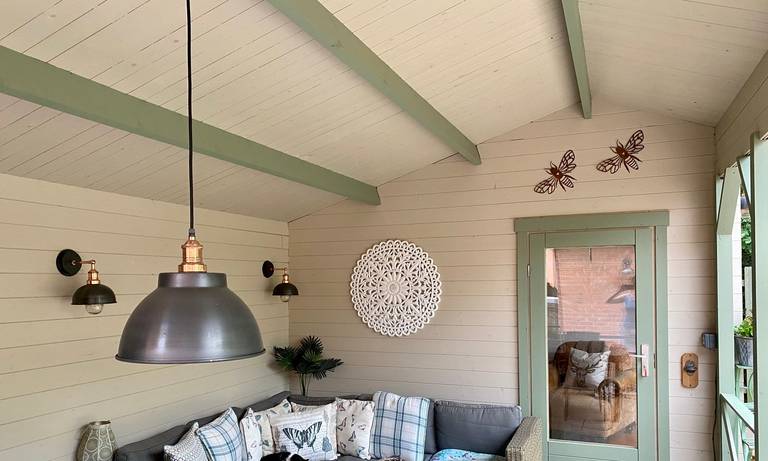 Brooklyn Outdoor & Bathroom Dome Pendant - 13 Inch - Pewter & Copper by Industville (Image supplied by @Gardener_on_theedge)
5. Exterior Wall Lights to Add Highlights
Wall lights for your exteriors are incredibly practical, illuminating the transition from inside to outside with smaller pools of light. They are particularly good at highlighting doorways, providing a welcoming entrance when installed on either side of the door.
Exterior wall lights can also work well when incorporated next to outdoor seating areas as they offer useful light to brighten the space as you eat or socialise and create more relaxing spaces with a unique glow.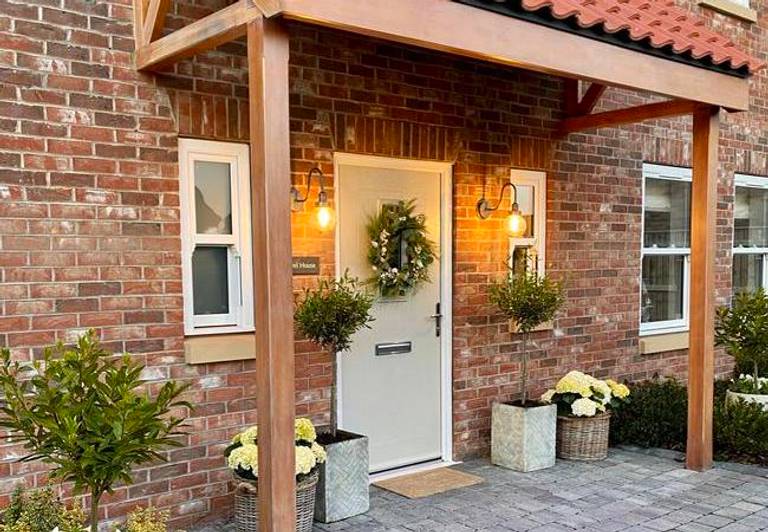 Swan Neck Outdoor & Bathroom Wall Light - Pewter - Globe Glass by Industville (Image supplied by @ourruralnest)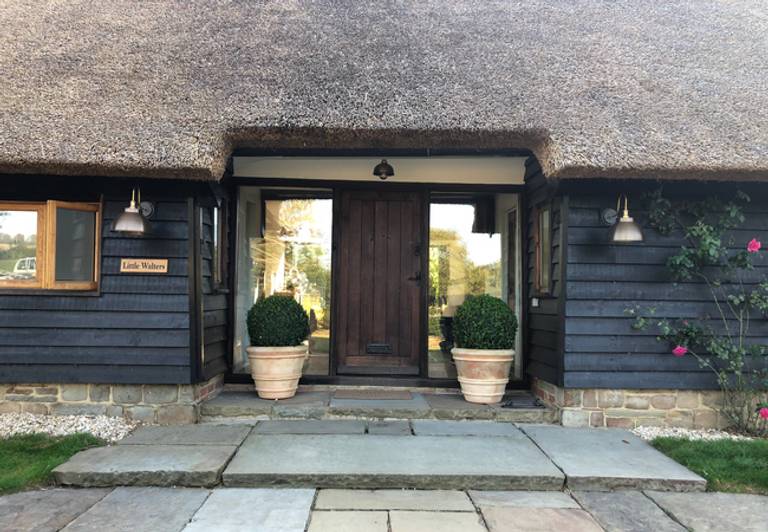 Commercial Outdoor Lighting Trends & Ideas
The above outdoor lighting trends and tips can be utilised in both residential and commercial spaces, but there are some other things you can embrace if you're specifically looking to boost your hospitality or retail lighting.
6. Outdoor Lights that Add Value
There are many obvious yet vitally important benefits of outdoor commercial lighting in the hospitality industry.
While your venue's outside space may look beautiful and inviting in the daylight, come evening time, you'll need to provide plenty of illumination so guests can continue to enjoy the space. Lighting up the outside space ensures your establishment can make full use of exterior areas, even in the autumn and winter months, by combining inviting lighting, heaters, and a canopy, for example.
The correct blend of exterior lighting is vital to get right as it influences moods and emotions, resulting in many commercial benefits. Customers will enjoy their experience and ultimately spend more time and money at your establishment, along with being more likely to return and give good recommendations to family and friends. Good lighting also means that employees will feel safer and more comfortable, which in turn will boost staff morale.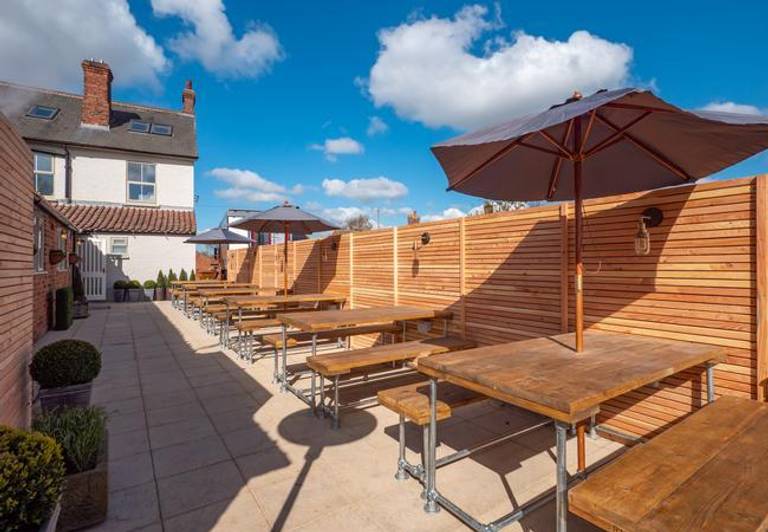 Brooklyn Outdoor & Bathroom Wall Light - Brass by Industville (Image supplied by The Bottle and Glass)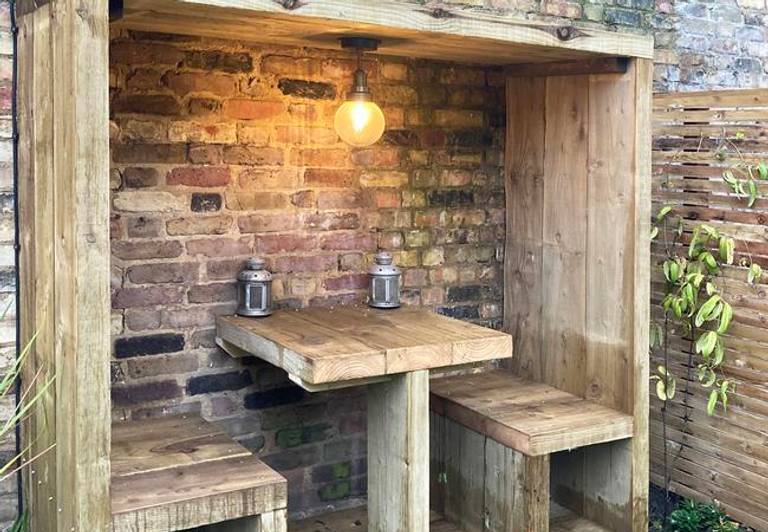 7. Independently Controlled Lights
Independently-controlled lights with dimmer switches for each light source allow you to create a wide variety of moods throughout the evening, enticing diners with an inviting ambience.
Consider the position and direction of each light to ensure you are highlighting areas of your space that you wish to draw attention to. Exterior lighting can accentuate the architecture, colours and textures of your establishment so make sure you consider all positions before you decide on final placement. For glow without glare, opt for downward-facing wall-mounted lights that create a relaxing atmosphere to be enjoyed by guests.
8. Sustainable Lighting as a Priority
Always ensure you opt for good quality outdoor lights that are compatible with LED bulbs. Venue owners are more environmentally conscious than ever before – LED bulbs are energy efficient and have incredibly long lives, making them the perfect sustainable choice. These days, LED bulbs are available in a variety of shapes and colours to help you achieve the exact look you desire.
This could be different depending on the intended use. For example, bright white may be chosen for areas that need practical lighting, whereas a warmer vintage-style amber bulb may be preferred to create a softer atmospheric glow. Another increasingly popular option is to use motion sensor LED bulbs with compatible outdoor light fixtures. Not only does this offer multiple safety advantages, but it will also help to save on electricity bills.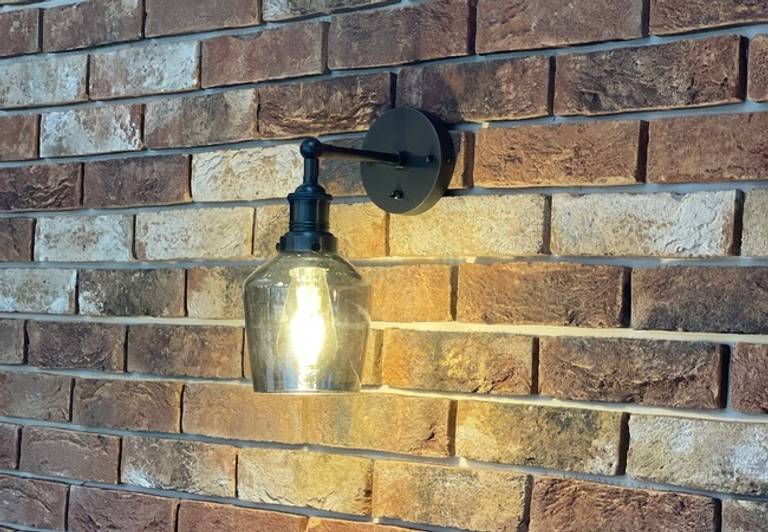 Brooklyn Tinted Glass Schoolhouse Wall Light - 5.5 Inch - Smoke Grey by Industville (Image supplied by Claire Rebecca Interior Design)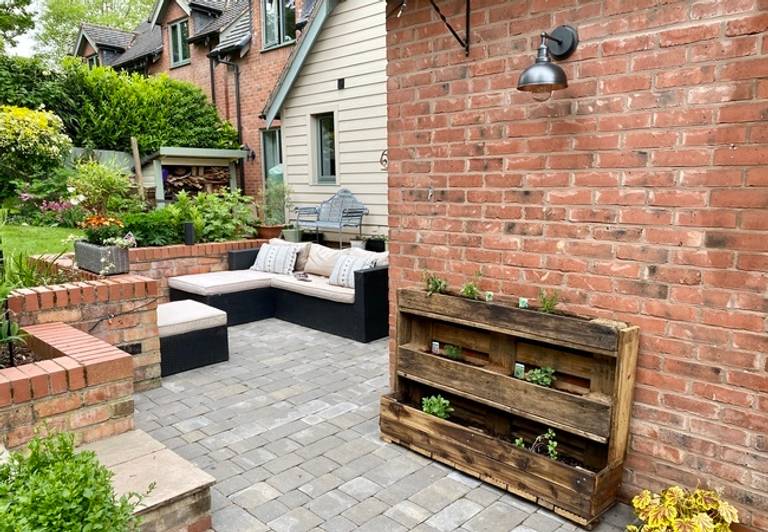 Will you be taking any of these outdoor lighting trends on board? If you need new exterior or garden lights to help complete your vision, look no further than our extensive outdoor lighting range, offering diverse styles for modern or industrial-inspired spaces.
Header image credit: @Gardener_on_theedge