Pantone's long-standing tradition of selecting a colour for the coming year is something that every interior designer looks forward to. The chosen colour sets the tone for the year, influencing styles and trends across industries.
The annual Pantone colour is selected through careful consideration of trends and colour influences in all areas of our lives – 2022's colour embodies curiosity, creativity and vision.
Here at Industville, we are always interested in how the latest trends can best be incorporated into home interiors and paired with our sleek modern lights. This year, there are plenty of opportunities to embrace 2022's dynamic colour.
Very Peri – Pantone Colour of the Year
Pantone's colour selection for 2022 is 'Very Peri' – this periwinkle-blue colour offers a refreshing, uplifting take on true blue hues.
The colour is said to represent creativity and innovation, inviting us to explore new possibilities. Very Peri is calming without being sedate, making it an intriguing colour to incorporate into fashion, digital art and home interiors.
By combining blue hues with a violet red undertone, the colour takes on a dynamic quality, making it the perfect canvas for you to project imaginative expression onto.
Very Peri is a custom colour that has been created specifically for the Pantone Colour of the Year campaign. While there are few examples of the colour in current interiors, we can certainly see where inspiration for the colour has been drawn from with the popularity of different blues used in various interior styles.
How to Incorporate Pantone's Colour Very Peri into Your Home
This purply-blue hue is so versatile, so there are plenty of opportunities to bring it into your home in the coming months – especially if you feel the need to add a hint of creativity and breeziness to your space.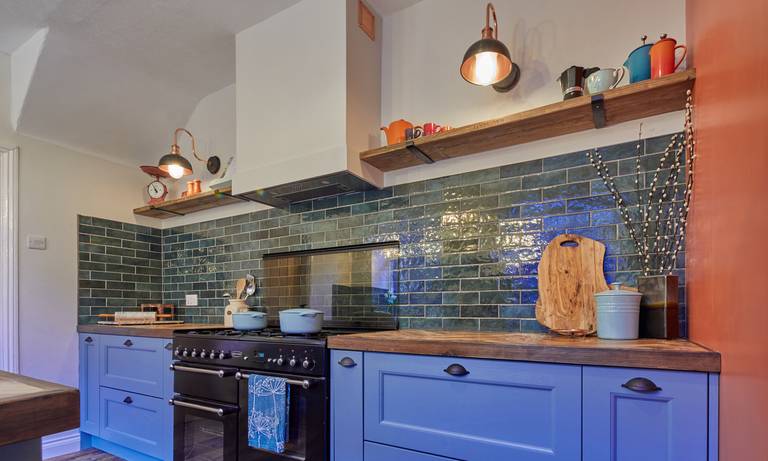 Swan Neck Outdoor & Bathroom Dome Wall Light - 8 Inch - Pewter & Copper, £149, by Industville (Image supplied by @catherine_a_muir)
Add Pantone Colours to Your Kitchen Cabinets
Bringing a pop of colour to your kitchen through colourful cabinets is a great way to refresh your interiors for the new year. Blue-purple or blue-grey coloured kitchens exude a sense of sophistication and simple luxury.
Adding a couple of complimentary highlights to your kitchen will also help draw out this dynamic colour. Periwinkle hues look wonderful in kitchens and dining spaces as they add intrigue but don't overwhelm the eye.
Blankets & Layers in Interior Design
One of the easiest ways to introduce new colours into your interiors is through textiles like blankets, throws, cushions and rugs. You easily swap out these items and experiment with different colour combinations.
One of the draws of Very Peri is its ability to shine in unexpected colour combinations. Why not try experimenting with different cushions and blankets in your living room or bedroom to add this refreshing colour to your design scheme.
Combining Blue & Purple Tones with Metallic Fixtures
It's no secret that blue hues look stunning against bright metals like brass and copper. This combination brings effortless luxury and style to any room. Lighter periwinkle blues can soften the highlights brought by metallic features, providing a more whimsical feel.
Blue and purple tones also pair wonderfully with darker metals; they help bring out the depth and natural properties of pewter fixtures.
Natural Materials & Plants
The airiness of periwinkle blue also means that it combines beautifully with natural materials, especially warm woods and other earthy tones.
If your home has a farmhouse or country look with lots of wood features, adding details of light blue or purple can breathe new life into the space. This kind of colour palette also works in more modern or industrial spaces, especially when incorporated through plants and flowers.
Why not add a splash of colour to your kitchen or living room with purple flowers as a nod to Pantone's stunning new colour?
Our extensive range of industrial lights complement a range of colours, so you can find the perfect light for your interiors no matter which on-trend colour you want to incorporate.
How will you incorporate Pantone's Very Peri into your interiors? We'd love to see how you transform your home this year – tag us @Industville, so we don't miss your interior makeover!
Header image credit: Fresh Start Living