Good lighting goes a long way to making a home. However, the home can be a complex place, with many different rooms that all need specific details.
The key to creating a cohesive home interior is ensuring your lighting is not just cohesive but also specific to the wants and needs of each space. Here, we take a look at some of the most important rooms in the home and provide design ideas to ensure your industrial-style lights are both stunning and fit for purpose.
Unique Lighting Ideas for Living Rooms
The living room is one of the most important rooms in the home, and also one of the most adaptable. A great living room will create a welcoming space where people can crash after work, entertain on a Friday night and lounge on a Sunday afternoon.
Due to their ambidextrous nature, living rooms require a diverse lighting arrangement involving:
Ceiling pendants for everyday lighting Wall lights for mood lighting Floor and table lamps for focus lighting To make an impact in your living room, consider putting emphasis on the pendant. By being creative, you can turn your main light source into an impactful piece of statement furniture that ties your room's interior together.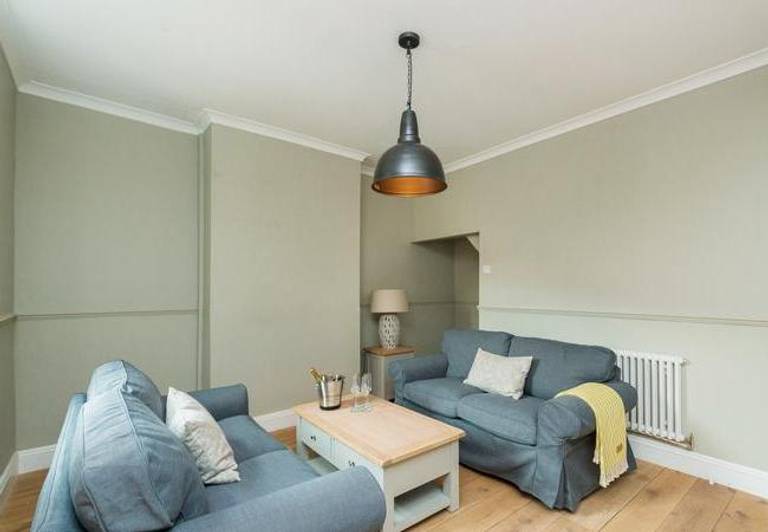 Retro Large Pendant - 17 Inch - Pewter, by Industville (Image Credit: @redlivingproperty / @Kayleigh_higgs_photography)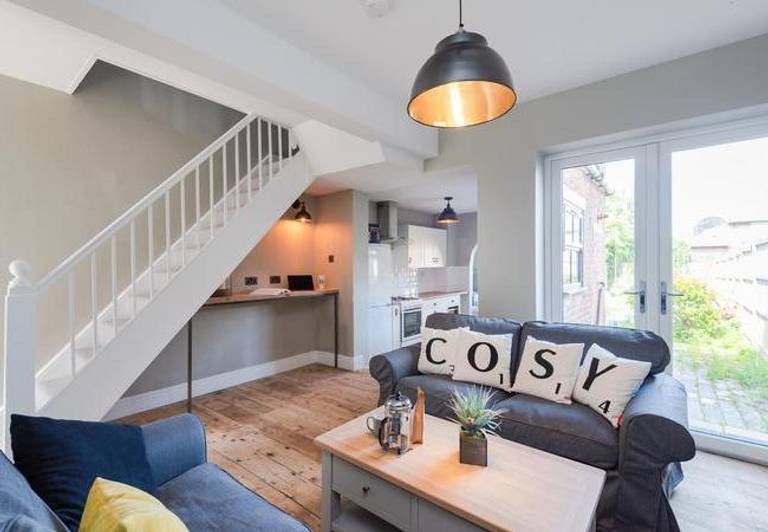 Kitchen Lighting
For most houses, the most important room is the kitchen. This is where many of us start and end the day, while kitchens are also becoming increasingly versatile spaces used for way more than just cooking.
Where Should Kitchen Lights Be Placed?
One of the most important things to consider with kitchen lighting is placement. You need to ensure you have the right lighting for every task and occasion while also keeping a cohesive style in your space.
Using lighting to define zones can add depth and interest whilst creating an orderly living space.
Hanging pendant lights above an island is a great way to create an eye-catching focal point. Not only are pendant lights attractive, but they also provide functionality for tasks such as reading recipes and food preparation.
To create mood lighting in the kitchen, try approaching your lighting in a layered manner. This will create little pockets and pools of light giving a calming atmosphere. If you have an architectural feature or piece of wall art in the kitchen, consider accenting it with subtle wall lights.
Embracing the full range of lighting sources available, from pendants and wall lights to recessed and track lighting, allows you to create practical and atmospheric spaces with clearly defined areas.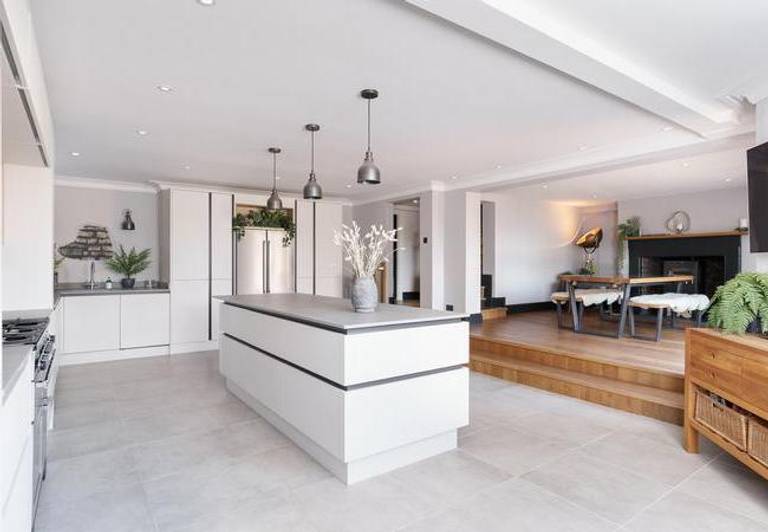 Brooklyn Cone Pendant - 7 Inch - Pewter, and Brooklyn Cone Wall Light - 7 Inch - Pewter, by Industville (Image supplied by @Westcross_property_renovation)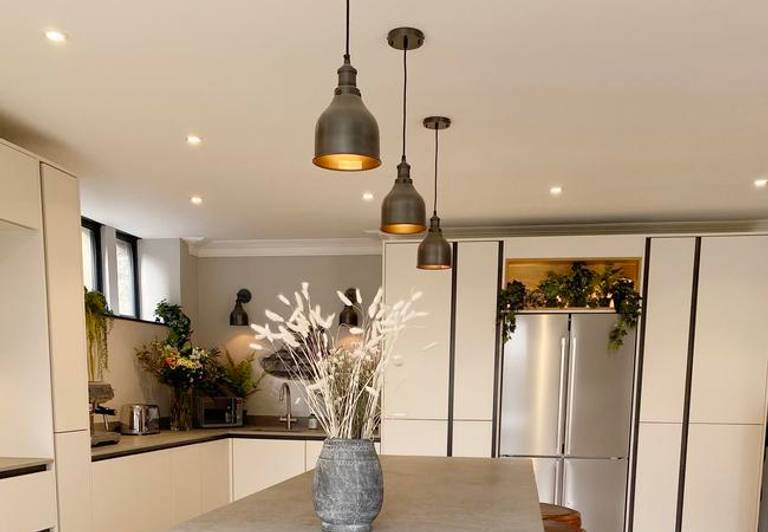 What Type of Lighting is Best for the Dining Room?
The dining room should be one of the most fashionable rooms in the house, so it's the perfect place to include some statement-making lighting. Hanging pendants feel right at home over a dinner table, so choose something big and impactful that will bring eyes to the room's centre. For example, cluster tinted glass lighting can create a striking modern look in your dining space.
Dining rooms should also be places that feel comfortable to be in, whether you're throwing a dinner party or enjoying a weekday meal with loved ones. To achieve the perfect dining room feel, consider softer lighting that creates a relaxing ambience across the whole space.
If you use your dining room to host parties often, you might want to consider changing your shades for the occasion. Treat the dining room the same way you would your wardrobe - keep it looking and feeling fresh for every party.
Orlando Wire Cage Pendant - 4 Inch - Brass & Brooklyn 5 Wire Pendant - Copper - Includes Shades, by Industville (Image Credit: Andrea Buckley)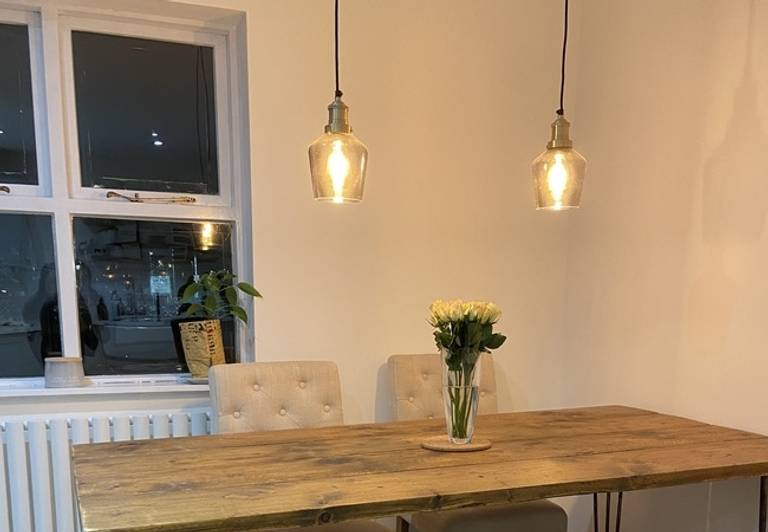 What Type of Lighting is Best for Bedrooms?
The lights in your bedroom are some of the most important. This room is where your days will start and end, so it's important you have the right setup so you can feel asleep and wake up feeling positive.
Similar to the dining room, bedrooms often benefit from soft ambient lighting that creates a warm and cosy feel. Consider a small pendant that helps to spread light evenly across the space.
Bedroom lighting will also include a wall or table light close to the bed for reading and getting up on those dark mornings. With plugin industrial wall lights now available, it's easier than ever to make sure your bedside lighting stays in line with your room's decor.
Larger bedrooms can also benefit from some accenting wall lights to show off particular features. However, for most bedrooms, a soft pendant and bedside lighting will often suffice.
Bathroom Lighting Ideas
Bathroom lighting can be the most challenging for home interior designers.
The bathroom lighting needs to set the right mood for multiple times in the day - whether it's the morning shower or a relaxing evening bath. However, bathroom lighting also needs to be purposeful and, particularly for small bathrooms, not take up too much space.
Due to the many needs of bathroom light schemes, it will often include at least two different types of lighting. Most bathrooms will have a bright ceiling pendant that can provide a good amount of light, along with a functional wall light that can either be used for mood lighting or as task lighting beside a mirror.
What Lights Can You Use in a Bathroom?
It's important to know what lights you can and cannot use in the bathroom. Due to water ingress, you need to ensure your bathroom lights have the correct IP rating: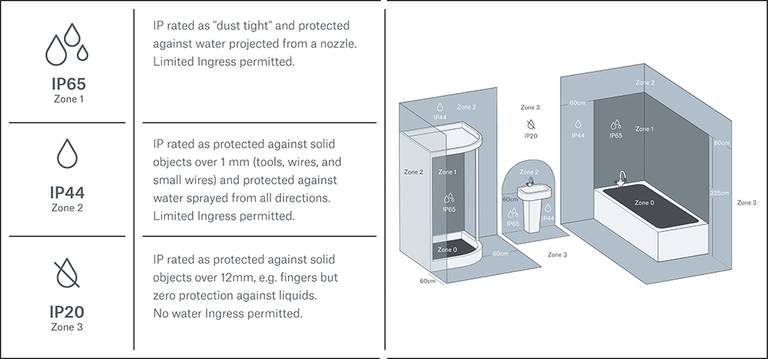 IP20 - Little to no protection against water ingress. Can be used outside splash zones in bathrooms.
IP44 - Slight protection against water spray, so can be used around sinks, bathrooms and showers.
IP65 - Dust-tight and protected from water sprayed from a nozzle, so can be used in showers and above baths.
Here at Industville, we have a wide range of waterproof IP-rated bathroom lights, so you can find a stylish fixture for your bathroom space.
Often, bathroom lighting can feel a bit detached from the rest of the home. However, with our range of stylish waterproof lighting, you can now bring your home interior's design into the bathroom.
Alternatively, if you want to add a statement-making pendant to the bathroom space, with our range of waterproof lights, there's no limit to your style.
What Type of Outdoor Lighting is Best?
There has been a huge shift in demand for outdoor lighting that's as stylish as indoor lighting, with customers wanting lights that are not only technically sound but visually appealing too.
By using on-trend metallics that do not rust such as copper and brass, it's now possible to have outdoor lighting that's both beautiful to look at and is also protected against the weather.
Making a lovely outdoor space has been high on many people's priority lists this year and lighting plays a big part in creating the much sought-after inside/outside look. We have seen an increase in demand from customers wanting lights for the garden that complement those inside the home, to create a scheme that flows seamlessly from inside to out.
Metallic designs are a popular choice, as they work both in contemporary and traditional settings, whilst adding an interesting reflective element to any garden design.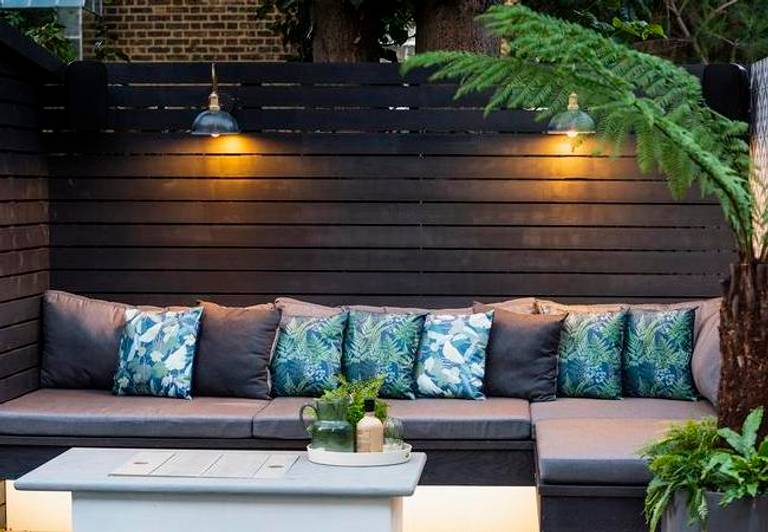 Swan Neck Outdoor & Bathroom Dome Wall Light - 8 Inch - Pewter & Brass, by Industville (Image supplied by Harrington Porter)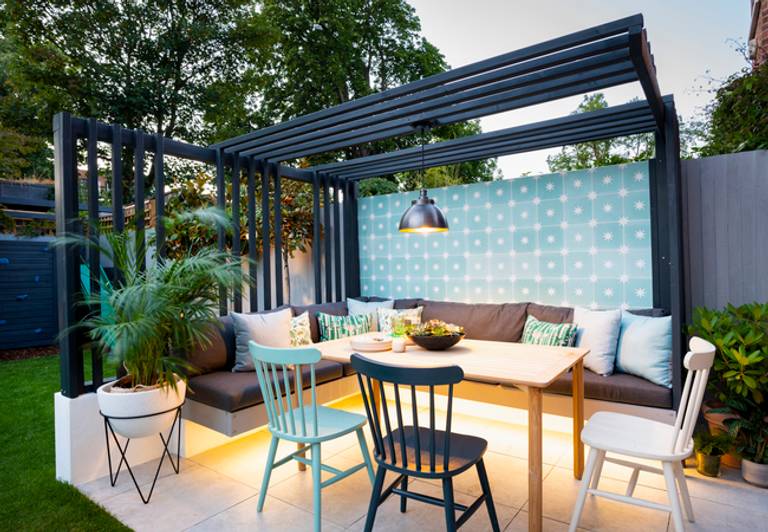 With a wide range of exciting industrial-style lights now available, it's easier than ever to create a unique and attractive lighting scheme for every space!
If you're looking for more inspiration, be sure to follow our Facebook, Instagram and Pinterest pages, where we post stunning designs every day. You can also explore our blog, which is full of the latest trends and design guides for every room in the home.