The bedroom is the most important room in your house; it's where you spend a third of your life! Regardless of your budget, it's always best to think quality over quantity when it comes to thinking about the bedroom décor. Whether you dream of a calm and restful sanctuary or a luxurious hotel bedroom, our gallery of ideas has expert advice on everything you need to know before you make a start.
Sunday morning snoozes, late night laughter or a place to retire when you just need a moment to yourself; however you use your bedroom, an atmospheric ambience provided by retro bedroom lighting is of upmost importance. Here at Industville, we know a thing or two about strategic lighting, and we've decided to share with you some of our expert knowledge on the matter. So, sit back with a cuppa, relax and learn how we can turn your place to dream into a dreamy place!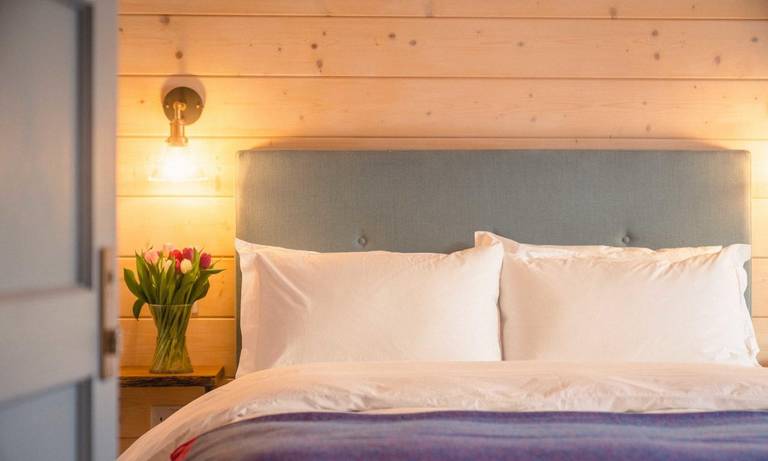 Brooklyn Glass Funnel Wall Light - 7 Inch, by Idustville (Image supplied by Blyth Rise Stays; @blthrisestays; www.blythrisestays.co.uk Photographed by Jonathan Pearson)
Focus on High-Quality Lights for a Room With a Difference
Regardless of your budget, it's always best to think quality over quantity when it comes to décor. Here at Industville, excellent materials, handcrafted shades and a range of lighting accessories mean that your lights can achieve the desired look and will always dazzle those who see them – even when they aren't switched on! Our ceiling lights are both practical and decorative, providing a warm glow for you whenever you need it.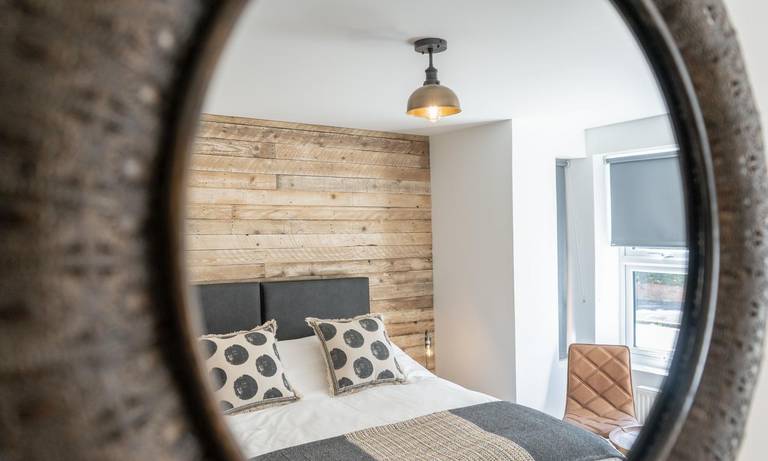 Brooklyn Dome Flush Mount - 8 Inch - Brass, by Industville (Images supplied by Ashbrook Serviced Apartments)
Switch It Up For Convenience
Placing your lights close to your bedside table will provide ideal lighting for late night reading. Utilising pendants next to your bed is a bold style statement that offers a new element to your bedroom décor while saving you from the clunky lamps that take up valuable space on the bedside table.
Know Your Style
Whether your house is a classic country cottage or a modern urban space, when it comes to interior design themes, consistency is key, meaning the bedroom should be harmonised with the rest of your home. Gather relevant accessories, utilise complementary colours and consider the range of lighting options available. Here at Industville, we have everything from basic bulbs for minimalists to statement Brooklyn Dome Flush Mount to appease your love for all things vintage.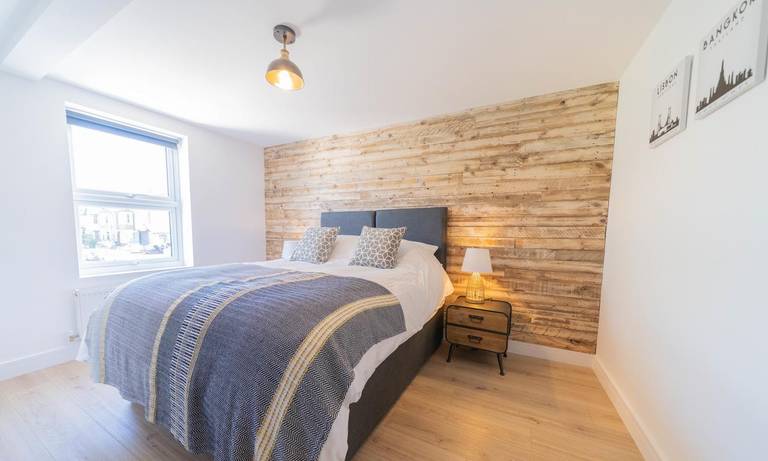 Brooklyn Dome Flush Mount - 8 Inch - Pewter, by Industville (Images supplied by Ashbrook Serviced Apartments)
Task lighting
Often, your bedroom will also double up as a dressing room, home office and a place to relax, meaning your lighting solution will have to accommodate for several different activities. Ceiling lights will provide enough light for computer work without straining your eyes, and position antique wall lights next to the mirrors for the optimum getting ready environment.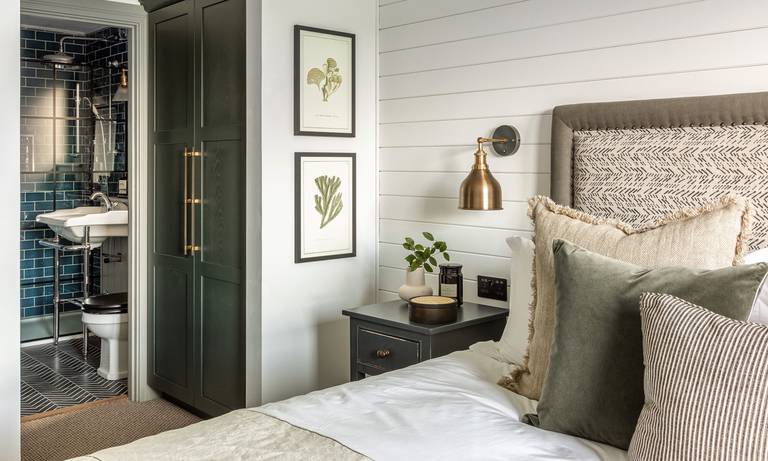 Brooklyn Cone Wall Light - 7 Inch - Brass, by Industville (Image Supplied by @houseninedesign House Nine Design www.housenine.co.uk)
Storage Matters
With trends such as Hygge and Lagom taking the interior design world by storm, minimal clutter is of upmost importance in 2018. An effective, stylish wardrobe can help to keep excess items at bay, and it doesn't have to be of the creaky, ugly, old school variation. Mirrored alternatives are a sleek, contemporary addition to any room, and will give smaller areas the illusion of more space.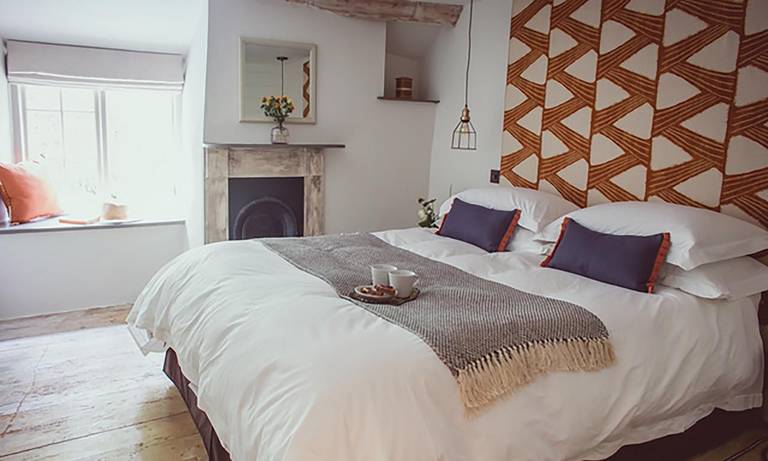 Brooklyn Rusty Cage Pendant - 6 Inch - Cone, by Industville (Image supplied by @siobhanhaylesinteriors)
Make Room for Romantic Lighting
There may be occasions that you will need to create a romantic setting in the bedroom. Install dimmer switches where possible to maintain the mood and think about candles and fairy lights to further that romantic notion.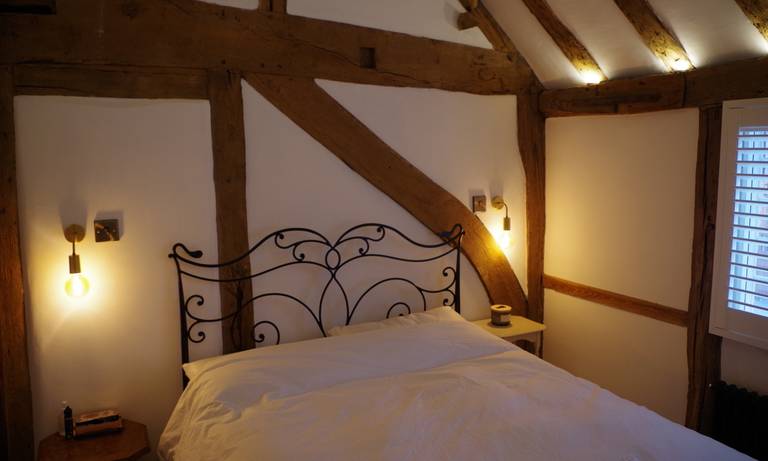 Sleek Edison Wall Light - Brass, by Industville (Image Supplied by Amanda Pugh from www.AmandaElectrics.co.uk)
Make a Statement with Colour
They say fortune favours the brave, and using bold colours, such as red, in your bedroom interiors will make for a powerful décor. Confident, glamorous and a definite head-turner, think about pairing a red wardrobe with accessories like bed cushions and artwork for a room with a view.
Think About Your Bulb Selection
Consider the ambience you require for your room and choose a light bulb accordingly. Our brand new big bulbs are a great statement feature with a nod towards your retro side, whilst other bulbs in our range can cascade the entire room in a warm, homely glow.
Utilise Natural Lighting…
Keep curtains neatly tied out of the way during daylight or opt for sleek blinds to make the most of the natural light outside. Some may opt for an elegant net curtain to keep your privacy without sacrificing the light, and lighter coloured fabrics will further extend a light and airy feel.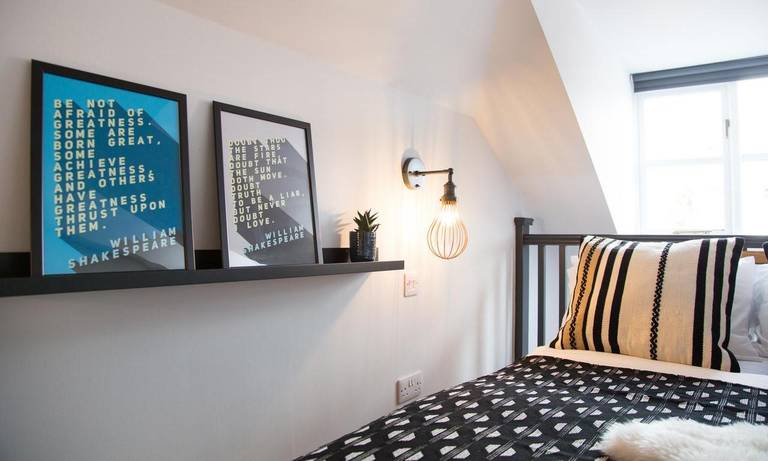 Brooklyn Balloon Cage Wall Light - 6 Inch - Pewter , by Industville (Image supplied by George Clarkes Old House New Home)
…But Block the Light When It Matters Most
First and foremost, your bedroom is a place of rest. The darker the room, the deeper you sleep, so opt for blackout blinds whenever possible and ensure all electrical items and other sources of light are switched off before your slumber.
We hope you have found this guide to bedroom lighting useful, and that it has taken you one step closer to your ideal snooze-land! Don't hesitate to contact a member of the team here at Industville, who would be happy to discuss your wants, needs and desires, and assist you on your quest for the perfect pendant! If you are amidst a house renovation, check out our latest blog articles including How to Bring Greenery Inside Your Interiors and Kitchen Design Trends for 2018!