Good bathroom design comes down to a couple of things; ambient yet functional bathroom lighting, maximising the available space, and, of course, careful attention to bathroom tile design.
With so many bathroom tile ideas out there, it can be tricky to know where to start. Explore some of our favourite tile patterns, shapes and colours to transform your space into a stunning spa-like sanctuary!
Combine Different Shaped Tiles
If you're having trouble choosing between a particular style or shape of bathroom tile, why not opt for multiple designs for a complimentary, expertly-designed look?
Simple rectangular bathroom wall tiles combined with more uniquely shaped floor tiles, or vice versa, can create a visually interesting space that adds an element of texture throughout.
Combining different shaped tiles on one wall is another option; this can look particularly good when the tiles are the same colour, offering a monochrome interior design that still has a dynamic feel.
Glossy Bathroom Tiles Ideas
If you've always gone for the matte tile look, glossy tiles might be the perfect choice for your bathroom makeover!
Whether you want to create a statement shower stall or go for a total transformation with a fully-tiled bathroom, glossy tiles instantly add a sense of luxury. Whichever colour you use, high-gloss tiles will shine and reflect light around the space beautifully.
Metallic bathroom light fixtures complement the sheen of the tiles wonderfully. Bright brass or copper fixtures provide an especially stunning highlight.
Timeless White Bathroom Tiles Ideas
There's a reason why white bathroom tiles are so popular. They are versatile, timeless and help create a classy, calming space where you can relax and wash away the stresses of the day.
If you're all about that sophisticated, minimalist look, you can't go wrong with white subway tiles that provide clean, simple lines for your space. Pairing white tiles with black grouting will also enhance those striking lines.
When you opt for a simple bathroom tile design, you're left with plenty of room to play with the finishing touches and other design details, especially lighting. Whether you want an industrial bathroom wall light to fit on either side of your mirror or industrial pendant lighting, there are countless options to choose from among the Industville range.
Match Your Tile and Paint Colours
For those that want a little more colour in their bathrooms, there are plenty of options. As vibrant tiles become more popular, there are so many eye-catching tiles to choose from that will give your space a unique personality.
Painting your bathroom the same colour as your tiles offers a pleasing and cohesive look, giving you numerous textures that are still balanced by the same colour scheme.
Patterned Bathroom Tiles Ideas
When it comes to patterned tiles, your options are endless. The pattern you choose can help emulate a particular design style, whether you want to capture a modern or vintage feel.
Fan patterns give a distinct art deco design, with plenty of variations for a modern twist, while classic star patterns for bathroom floor or wall tiles provide an attractive statement in an otherwise minimal space.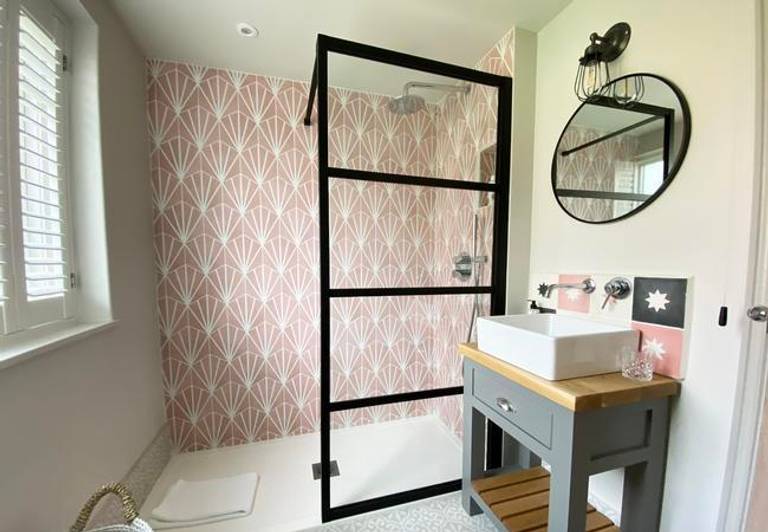 Orlando Wire Cage Wall Light - 4 Inch - Pewter by Industville (Image supplied by www.olivetreecottage.co.uk)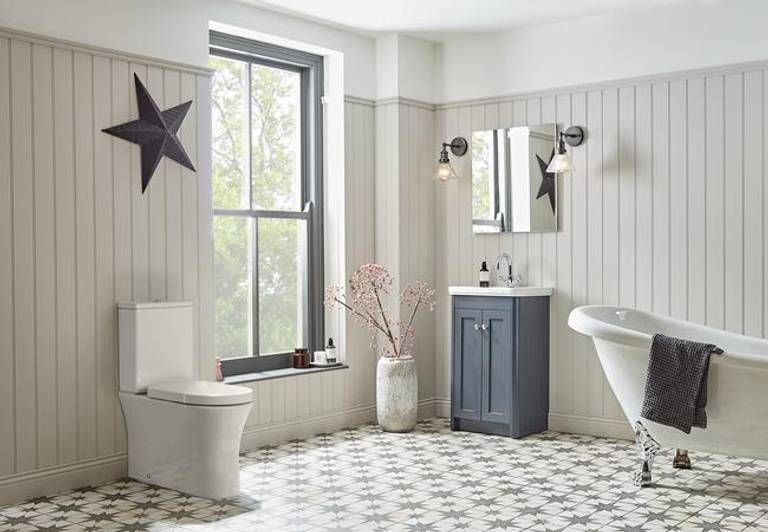 Small Bathroom Tiles Ideas
Even if you have a smaller bathroom, there are still many ways you can incorporate stylish tile designs into your space without overwhelming it. When designing a small bathroom, think about:
Lighter coloured tiles to make the space feel more open and airier.
Making good use of your floor and creating a statement with patterned tiles.
Using smaller tiles in particular areas – like behind the sink or shower – to create the illusion of space.
For more inspiration when renovating or decorating smaller bathroom, see our guide to 50 small bathroom ideas.
Combining Complementary Bathroom Tiles & Lighting
Both tiles and bathroom lights seamlessly blend function with style, and when you get the perfect combination of the two, your bathroom is sure to sing with refinement.
Industrial style bathroom lights are wonderfully versatile and will complement a range of tile styles. Decide whether a metal or glass fixture would work best in your space; metal lights can be paired with other metallic fixtures like taps and handles and serve as great highlights against vibrant colours, while vintage glass lights can enhance the elegance of your design.
When you're looking for the perfect bathroom light, make sure you also pay attention to IP ratings, as this will show which lights are resistant to water and can therefore be installed in bathrooms.
Ratings of IP44 and IP65 are suitable for zone 2 and 1 of your bathroom, respectively; this means IP44 lights can withstand water spray, and IP65 lights are protected against water projected from a nozzle.
Once you've established which light you need for which zone of your bathroom, you can focus on deciding on the style and the best tile and light combination!
Is your bathroom ready for a refresh? Hopefully, we've given you a bit of inspiration and shown you just how amazing your bathroom could look!
If you need some stylish industrial lights to complete your interior makeover, you've come to the right place! The Industville lighting collection includes a range of designs perfect for every room in the house.
Header image credit: @upstyleyourhome