Whether you're embarking on a total bathroom remodel or want to give your space a refreshing update, there can be a lot to consider when it comes to bathroom lighting.
Ideally, bathrooms should be tranquil spaces that give you pampered moments of relaxation while also being incredibly functional – proper lighting can help you strike a balance between the right look and the level of practicality that's required.
How to Light Your Bathroom
Consider the IP ratings of your bathroom lights
Layer ambinent, task and accent lighting for a cosy bathroom
Get bathroom light fixture placement right
Use light bulbs with the rigth colour temperature
Understand how many lumens you need
Before you start thinking about your favourite styles and bathroom lighting ideas, you should understand the principles behind lighting a bathroom and make a plan that suits your space. Here's what you'll likely want to consider, espeically when planning your lighting for winter.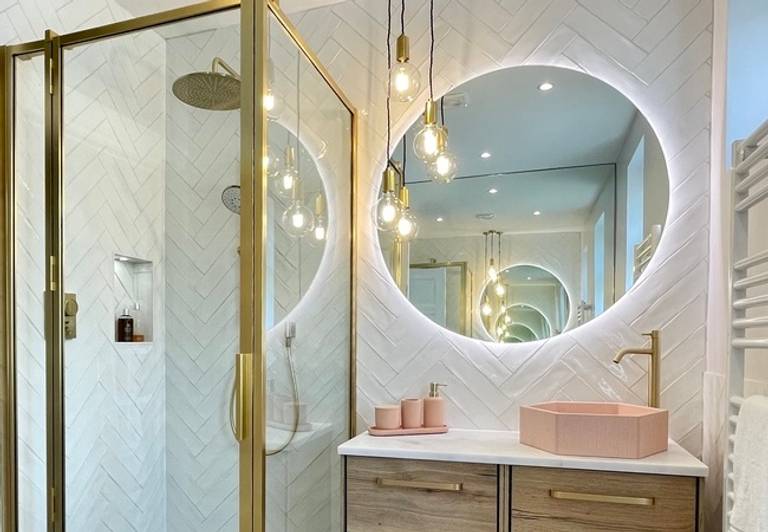 Sleek Edison Pendant - 1 Wire - Brass by Industville (Image supplied by @hennessy_home_renovation & @lynseyrowe.interiors)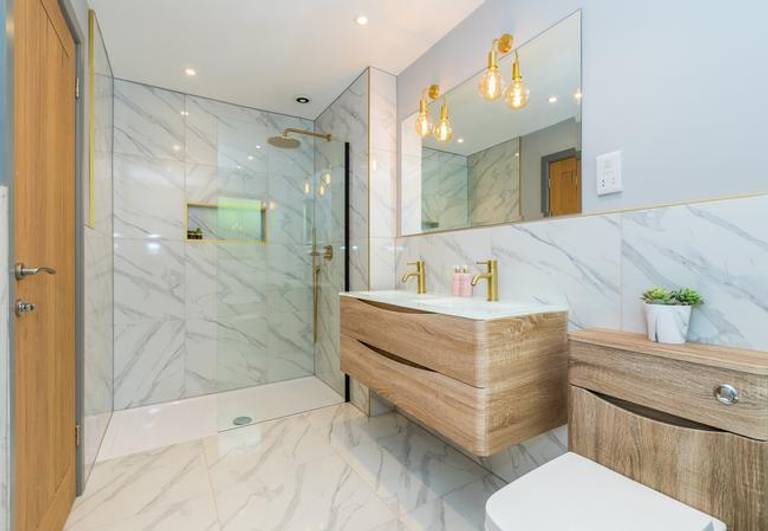 1. Understanding What IP Rating You Need for Bathroom Lights
Obviously, water and electrical fixtures do not mix well, so your first consideration should be safety. Your chosen lights should be appropriately waterproof and specifically highlighted as suitable for bathroom room use in certain areas.
Can You Use Any Light in a Bathroom?
To establish if a light can be used in a bathroom, start by reviewing the lights' IP ratings. An Ingress Protection or IP rating indicates how water, dust or solid-resistant a light is, showing whether it will hold up against the kind of water exposure found in a bathroom.
IP65-rated lights are dust tight and should be used in areas that experience water projected from a nozzle. IP44-rated lights cannot withstand the same force but can still withstand water sprayed from all directions. IP20-rated lights are not projected against liquids but can still be safely used in zone 3 of the bathroom. You can see the zones and corresponding IP ratings highlighted in the diagram below.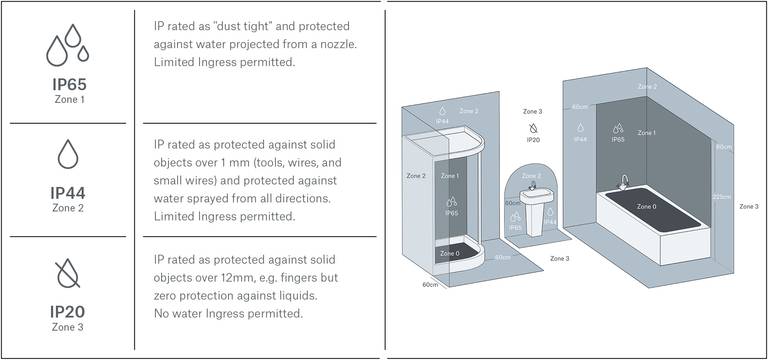 Our range of modern bathroom lights spans across a range of IP ratings, giving you several fixture choices for each of the different bathroom zones.
2. Layering Lights in Winter
Most rooms will benefit from different layers of light, but embracing various sources of light in the bathroom can be especially important. You should think about how to incorporate the following:
Ambient/general lighting – e.g. an overhead flush mount.
Task lighting – e.g. wall light or pendants on either side of a mirror.
Accent lighting – e.g. a pendant or statement light hanging over the bath.
Overhead lights are important for generally brightening up a space, but they may not provide enough focused light for particular tasks like applying makeup or shaving.
Task lighting installed by the mirror can be especially effective at providing enough light for when you complete these tasks. Having light in front of your face also offers a more flattering reflection and doesn't leave your face in shadows like being backlit by general overhead lighting might.
Ultimately, embracing various layers of light in winter will give you more opportunity to play with different styles as well as helping increase the functionality of the space.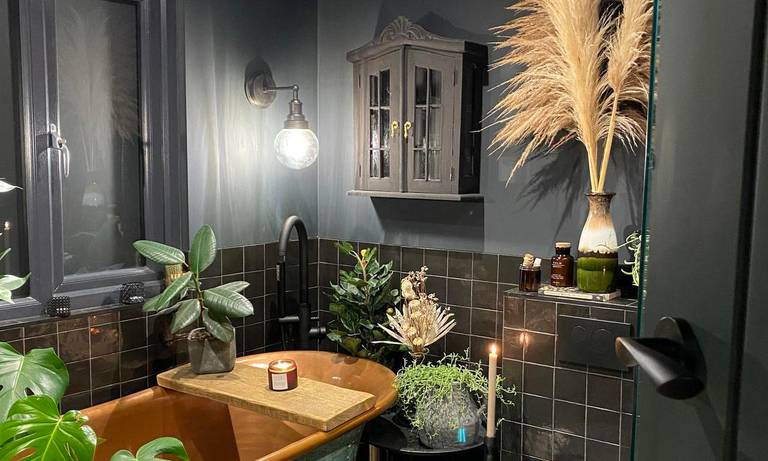 Brooklyn Outdoor & Bathroom Globe Wall Light - Pewter by Industville (Image supplied by @sheffieldsemi1930s)
3. Finding the Right Light Fixture Placement
Going hand in hand with the importance of layering light is the need to think about where you should install your lights. Where is the light most needed, and are there zones (like the immediate vicinity of the bath) that could do with a more subdued ambience?
As already mentioned, a great place to install bathroom lights is on either side of the mirror. Lights here are unobtrusive and serve a vital purpose as task lighting – put these lights at around eye level, to ensure they don't cast shadows on your face. You could also add small accent lights to bathroom niches or shelves to highlight the area and make it into more of a display.
If you have tall enough ceilings, you can think about larger ceiling lights like statement pendants or cluster chandeliers. These work particularly well when hung over baths, adding to the overall ambience and sense of grandeur that many seek when creating spa-like interiors.
4. Using the Right Light Bulbs
The kind of ambience you create will likely depend on the light bulb you use, as this will determine the quality and colour temperature of your light.
Light bulbs with cooler-toned light (3000k-4000k) can offer a crisper, cleaner and brighter look, which some may prefer in purely functional bathrooms.
Light bulbs with warmer-toned light (2700k or lower) simulate natural daylight more effectively, so they can be preferable, especially in spaces with smaller windows and limited true natural light.
Most of our LED Edison bulbs lie on the warmer end of the colour temperature spectrum (2200K to 2700K), meaning you can achieve a soft, relaxing atmosphere with ease. Our bulbs can also be used with compatible dimmer switches, which can help enhance your bathroom's ambience further, allowing you to create a more subdued mood along with the capability for total illumination when needed.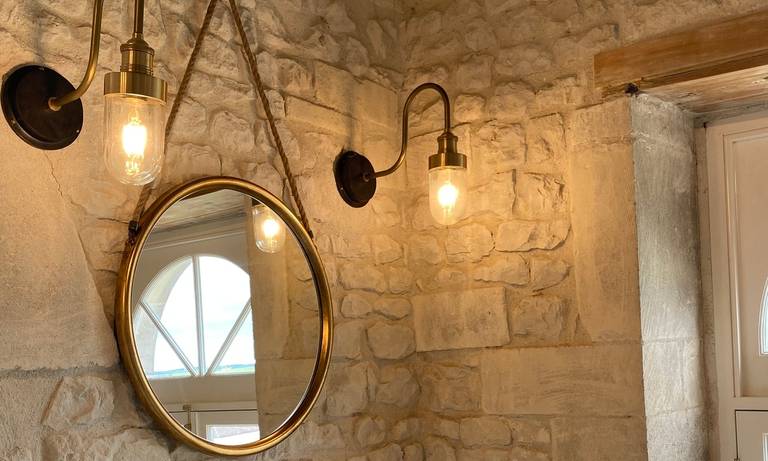 Swan Neck Outdoor & Bathroom Wall Light - Brass - Tube Glass by Industville (Image supplied by @restore_the_chateau)
5. How Bright Should Bathroom Lighting Be?
When choosing your bathroom bulbs, also consider how bright they'll need to be to suit your space. Look at the lumens of a bulb to determine its brightness.
For task lights in the bathroom, you should look for around 600 lumens per square metre. This ensures you won't have to strain your eyes and can complete detail-oriented tasks more easily.
You can then rely on bulbs with fewer lumens for your ambient and accent lighting to ensure you create a relaxing atmosphere. Again, dimmers can be useful here if you're worried about adding lots of bright lights.
Beyond allowing for basic practicality, the brightness of your lighting in winter will come down to personal preference, with some preferring clean, dazzling brightness and others favouring bulbs with intentionally lower lumen levels for a cosier, more intimate spa-like atmosphere.
When you've taken all these tips onboard, you can start exploring the plethora of lighting designs and styles that'll bring your bathroom to life! Our versatile bathroom lights offer something for everyone, no matter if your interiors lean towards a vintage, industrial or modern aesthetic – browse the selection now.
If you have the luxury of a larger bathroom with plenty of zone 3 areas to get creative with, you can explore all of our lighting options to discover an array of fixtures that'll help your space shine.
Header image credit: @Oreathome